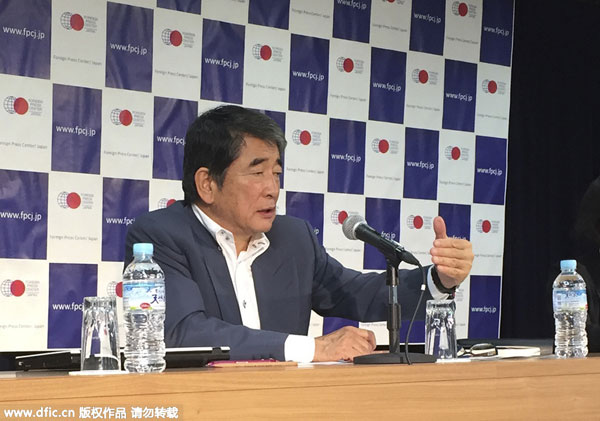 Yukio Okamoto, an outside director of Mitsubishi Materials, speaks to the foreign media in Tokyo Wednesday, July 22, 2015.[Photo/IC]
BEIJING - Mitsubishi Materials will apologize to forced laborers from China during WWII and compensate them economically, according to a statement released Friday by a Chinese group.
It will be the first time that a Japanese company has apologized to Chinese victims during WWII.
The statement was made by Mitsubishi Materials but released by a non-government group aimed at demanding compensation from Japan.
Tong Zeng, the head of the group, said the text will be fully published before Aug 15, the day marking Japan's unconditional surrender to the Allies in 1945.
Mitsubishi Materials will compensate 100,000 yuan ($16,100) for each forced Chinese worker and their relatives.
In the statement, Mitsubishi Materials said about 39,000 Chinese laborers were forced to Japan due to a decision by the Japanese government. Mitsubishi Mining Co, the firm's predecessor, had 3,765 Chinese workers working in poor conditions. A total of 722 Chinese workers died.
Mitsubishi Materials said it recognized that the human rights of Chinese forced labors were infringed upon, and expressed deep reflection over it.
Mitsubishi Materials will extend its sincere apologies to those Chinese workers and their relatives, and recognize the company's historic responsibility on this issue.
The company said in the statement that it will establish a monument to commemorate the history.
Tong said Mitsubishi's apology should be given positive comments, saying that he hoped other Japanese companies can follow suit.
On Sunday, Mitsubishi Materials apologized for wartime enslavement of some 900 US POWs at mines run by Mitsubishi Mining Co at a special ceremony in Los Angeles.