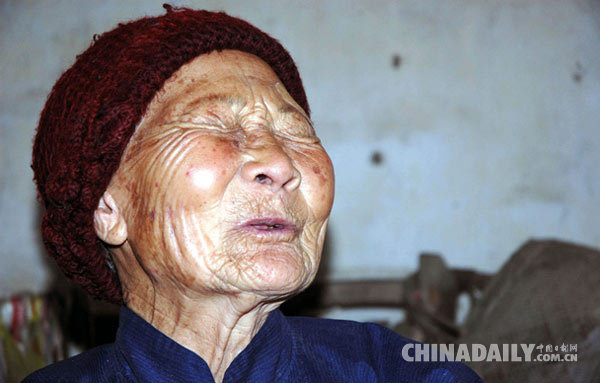 Zhou Fenying before she died. [Photo by Jiang Weixun provided to chinadaily.com.cn]
Zhou Fengying, one of those many Chinese women who had been abducted by the Japanese invaders to serve as their wartime sex slaves, commonly known as "comfort woman," believed until drawing her final breath in 2008 that the Japanese owed her an apology.
"How could I forgive those Japanese devils after all the insults I have suffered?" said Zhou when recalling memories of enslavement in her hometown of Baipu township, of Rugao city, East China's Jiangsu province.
A news report running in the Nanjing-based Yangtse Evening Post on April 26, 2007, triggered Zhou's revelation of those tragic memories that had been locked away sealed for more than 70 years.
"I was a comfort woman, too."
The newspaper published an article about the death of Lei Guiying, Nanjing's last living "comfort woman" and witness to of the dark history. Lei died of a cerebral hemorrhage at Jiangsu Hospital of Traditional Chinese Medicine at the age of 79.
As the only surviving "comfort woman" in survivor in Nanjing to stand out to testify against the outrage of the Japanese Imperial Army during World War II, Lei's death marked the passing of the last local woman with the courage to accuse her abusersmarks the distinction of the other surviving witnesses.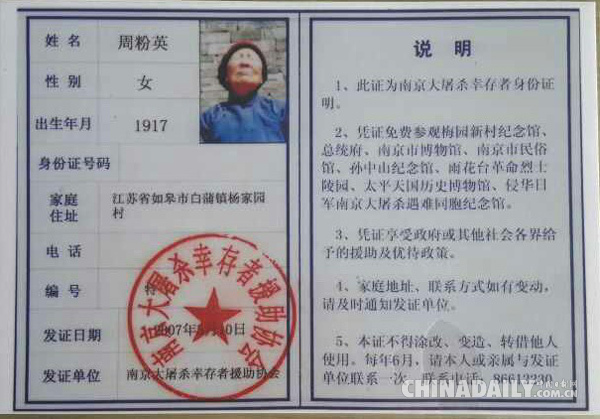 Zhou Fenying's certificate to recognize her as a survivor of the Nanjing Massacre. [Photo by Jiang Weixun provided to chinadaily.com.cn] 
Tears brimmed over Zhou Fenying's blind eyes and trickled down her cheek when she heard Lei's story read by her son. Zhou, 91 years old then, sobbed out the truth: "I was a 'comfort woman', too".
Zhou was only 22 years old when she and her cousin were captured by Japanese soldiers and tied up with ropes after they were found hidden behind a millstone in a villager's courtyard in 1938.
She Zhou was absolutely not the only "comfort woman" still alive at that time, but most survivors were unwilling to disclose their identities and openly accuse the Japanese armycharge the insult.