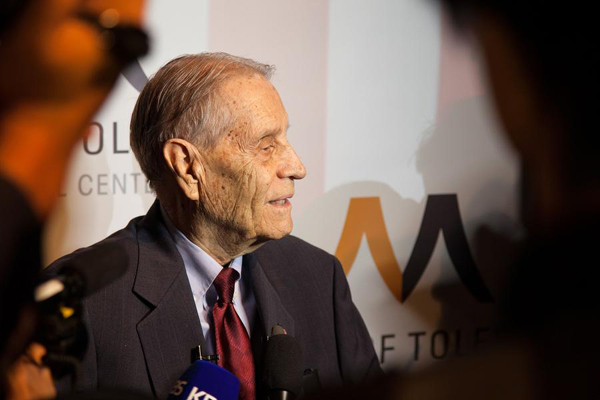 James Murphy, a 94-year-old veteran and POW who survived working at Mitsubishi's Osarizawa Copper Mine and the infamous Bataan Death March in the Philippines, reacts after a Mitsubishi press conference apology in Los Angeles July 19, 2015. [Photo/Agencies]
LOS ANGELES - Saying they felt a "deep sense of ethical responsibility for a past tragedy," executives from a major Japanese corporation gave an unprecedented apology Sunday to a 94-year-old US prisoner of war for using American POWs for forced labor during World War II.
At the solemn ceremony hosted by the Museum of Tolerance at the Simon Wiesenthal Center in Los Angeles, James Murphy of Santa Maria, California, accepted the apology he had sought for 70 years on behalf of US POWs from executives of Mitsubishi Materials Corp.
Hikaru Kimura, senior executive officer for Mitsubishi Materials Corp., said through a translator that the company offered a "most remorseful apology" to the about 900 POWs who suffered "harsh, severe hardships" while forced to work in Mitsubishi mines and industrial plants.
Murphy toiled in Mitsubishi copper mines and is one of the few left alive to accept such an apology.
During WWII, the Japanese manufacture giant used some 900 US POWs as forced laborers.
Aside from the US POWs, the Japanese government also conscripted tens of thousand of Chinese and Koreans to fill the country's labor shortage during the war.