JAKARTA - A group of scholars from Indonesia, Singapore and Malaysia have recently penned an open letter urging Japanese Prime Minister Shinzo Abe to face up to Japan's wartime aggression and sincerely apologize to the victims.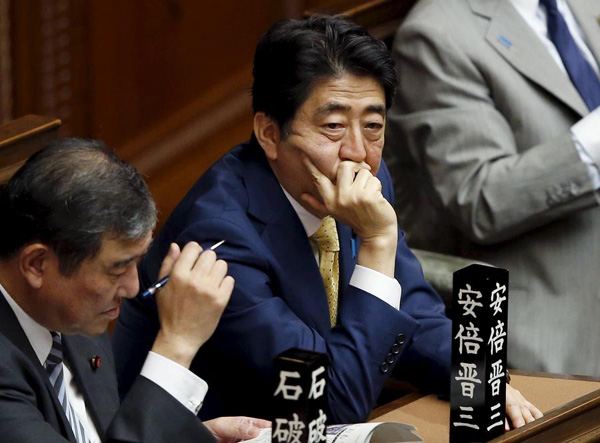 Japan's Prime Minister Shinzo Abe attends the lower house plenary session at the parliament in Tokyo July 16, 2015.   [Photo/Agencies]
The letter, sent to Abe in late June, called on the prime minister to acknowledge the great harm to Southeast Asian people caused by Japan's act of aggression, compensate the "comfort women" survivors who suffered during the war, and "stay highly vigilant" of the resurgence of Japanese militarism.
The letter was co-signed by well-known experts and scholars, such as Bambang Suryono, chief editor of a Chinese-language Indonesian newspaper and Guo Wenlong, president of the Association of World War II Studies in Singapore.
The letter recalled the Japanese army's violation of various nations' sovereignties and the vicious slaughter of over 120,000 innocent people in Singapore, Malaysia and Indonesia 70 years ago. It also pointed out that the Japanese military captured Chinese laborers to mine oil and build airports among other tasks during Japan's occupation of the region.
The authors of the letter highlighted the issue of "comfort women" survivors, for whom they demanded an apology and compensation. The letter said the Japanese government did not respond positively to such appeals in the past. Abducted by Japanese military, "comfort women" were inflicted with "enormous physical and psychological trauma," and most of them ended up with a "lifetime of suffering," the letter said.
The authors of the letter also voiced their staunch objection to the proposed amendment of the Japanese pacifist constitution, noting that the amendment is seen as an "abominable move by the Japanese militarists to revive militarism."
Moreover, the letter condemned the expansion of the Japanese army, navy and air force and the outward show of its military might, which, it said, threaten the peace and security of Japan's neighbors.
Finally, the letter urged the Japanese government to learn from Germany in its acknowledgement of the wrongdoings of Nazi Germany during the war, admit its wartime atrocities and earnestly repent.