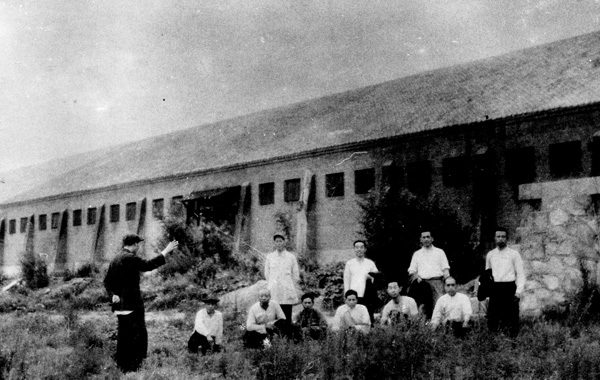 A photo taken in July 1949 shows part of the Liaoyuan POW camp. Most of the buildings were demolished in the years that followed World War II. Provided to China Daily

Northeast China played host to some of the highest-ranked Allied officers and civilian officials during the years leading up to the end of World War II. However, none of them were there of their own volition. Instead, they were being held by the Japanese. He Na and Han Junhong report from Liaoyuan, Jilin province
A number of old, redbrick, Japanese-style bungalows stand on a northerly hill at the former Garrison Command Headquarters in Liaoyuan, Jilin province, and hidden among them is an inconspicuous house dating to the 1930s.
At one time, the house was part of an enclave of similar buildings, but now it's the only one remaining, and although the peeling walls and rotten roof beams have altered its external appearance, the things that happened there and the stories arising from those events will live on, because this building holds a unique place in Chinese history.
It's one of the few visible reminders of the Liaoyuan Prisoner of War camp, and although many locals are unaware that the house exists, those that do find it hard to believe 34 high-ranking Allied officers, the deposed governor of Hong Kong and other top officials were imprisoned nearby during World War II.
The prisoners included a number of world-famous military names, such as General Jonathan Wainwright, commander of the Allied forces in the Philippines, Major General George Moore, former commander of the Philippine military harbor defenses, and two other Philippines' veterans, Brigadier General William E. Brougher and Major General George Parker. The men were held from autumn 1944 until the camp was liberated in August 1945.
Wainwright is perhaps best remembered from photos and footage showing the tall, thin, elderly soldier standing behind General Douglas MacArthur aboard the USS Missouri, watching as his compatriot officially accepted the surrender of Japan on Sept 2, 1945.
"As the place where the highest-ranking Allied POWs were held, the camp has huge historical value," said Wei Dong, curator of the Liaoyuan High-Ranking Allied POWs Camp Museum, which is set to open later this year.