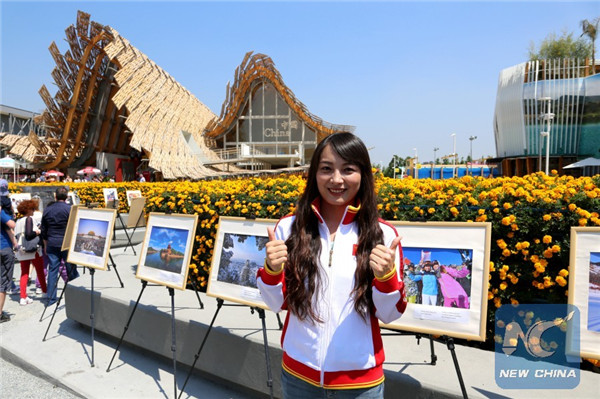 Li Nina, the ambassador for the Beijing Winter Olympics 2022 Bid, appears at the closing ceremony of the Beijing Week of China Pavilion in EXPO 2015, in Milan, on June 3, 2015. [Photo/Xinhua]
MILAN - Beijing Week at Italy's world exposition Expo Milano 2015 closed on Wednesday with the promotion of Beijing's candidacy for the 2022 Winter Olympic Games.
As part of the closing ceremony, Chinese freestyle aerial skier Li Nina sang the theme song of Beijing's bidding for Winter Olympics "Heart" in front of an audience of Expo visitors.
"As an athlete of winter sports, I particularly wish that the 2022 Winter Olympic Games to be held in my home country China," Li told Xinhua, stressing she was honored to be an ambassador for Beijing's bid.
Born in 1983, Li participated in four Winter Olympic Games from 2002 to 2014 and won two silver medals at the 2006 Turin Games and 2010 Vancouver Games.
An exhibition of Beijing's bid in the landscape garden outside the China Pavilion showed visitors to Expo Milano 2015 the photos of winter venues and results achieved by Chinese athletes.
While visiting the exhibition with a group of students, Annalisa Wagner, school director of the Dante Alighieri institute near here, told Xinhua, "Today our students are getting to know a lesser known face of China."
"China deserves special attention. We brought as many as 890 elementary and middle school students from our institute to the Expo today. Many of our students are Chinese and it is particularly exciting for them to be here," she added.
Earlier this week, the International Olympic Committee (IOC)'s evaluation commission underlined the huge winter sport potential in its assessment report on Beijing's bid.
The report confirmed that Beijing has the key elements in place to stage a highly successful Olympic Winter Games in 2022 based on the city's experience and expertise gained from hosting the 2008 Beijing Games and the 2014 Youth Olympic Games in Nanjing.
The IOC will decide between Beijing or Almaty, Kazakhstan as the 2022 Olympic host on July 31.