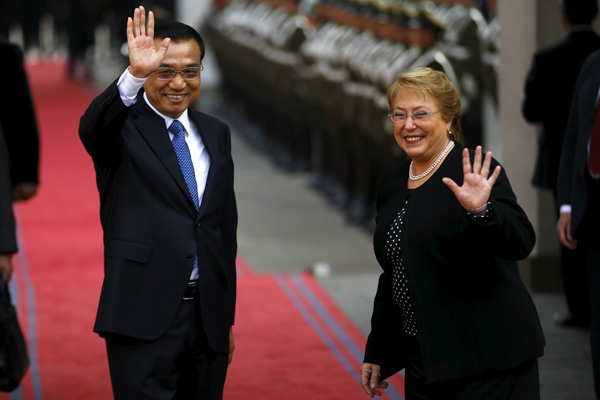 Premier Li Keqiang and Chile's President Michelle Bachelet greet the media at La Moneda presidential palace in Santiago on Monday. [Photo / Agencies]
China and Chile have agreed to expand free trade between them as they celebrate the 10th anniversary of their free trade agreement.
Premier Li Keqiang met with Chilean President Michelle Bachelet in Santiago on the last stop of his Latin American tour.
The leaders witnessed the signing of 18 cooperative agreements covering fields such as trade, finance, public infrastructure facilities construction, energy, industrial capacity cooperation, astronomy and cultural exchanges.
Li said China's cooperation with Chile can serve as a model for its relations with other Latin American countries.
"We are going to set up the first yuan settlement bank in Chile, the first of its kind in Latin America," Li said.
"In addition, we have decided to award 50 billion yuan ($8.2 billion) of QFII quotas to Chile, in a move to promote financial cooperation." The QFII system enables foreign institutions to invest in China.
He said China is willing to take part in the construction of a Chilean transcontinental tunnel. Chile has put forward plans for a tunnel that would connect the Pacific and Atlantic coasts.
Bachelet said the meeting with Li is talking place at a time when the countries are celebrating the 45th anniversary of bilateral ties.
"Despite the geographic distance, our friendship is deep," she said.
In 2005, Chile became the first Latin American country to sign a free trade agreement with China.
Li Baorong, China's ambassador to Chile, said China is Chile's top trade partner, importer and buyer of copper products.
Thanks to the agreement, "overall trade volume reached $34.1 billion last year, five times greater than before the pact was signed in 2005", the envoy said in an interview with Xinhua.
The premier has outlined one of the goals of his visit as comprehensively promoting cooperative agendas such as the "China-Chilean free trade zone, financing, production capacity, equipment manufacturing and infrastructure construction".
Chen Duqing, a former Chinese ambassador to Brazil and now a senior research fellow at the Chinese Academy of Social Sciences, said that the potential for collaboration is huge, so the two countries should work on new measures to further boost bilateral trade.
"We have seen wine from Chile sold at a lower price in China because it is now benefiting from the tariff exemption," Chen said.
The premier, who arrived in Chile on Sunday, said the host country's efforts to develop its relationship with China have "been at the forefront among the regional countries". Chile was the first South American country to establish diplomatic relations with China.
He said he aims to turn the potential of China-Chile cooperation into a driving force to accelerate development.
Alicia Barcena, executive secretary of the United Nations Economic Commission for Latin America and the Caribbean, said the "China-Latin America relationship is full of vigor".
An opinion piece by Barcena was published under the headline "China and Latin America: Diversification is the key word" in Chile's daily El Mercurio newspaper on Sunday.
Contact the writer at zhaoyinan@chinadaily.com.cn