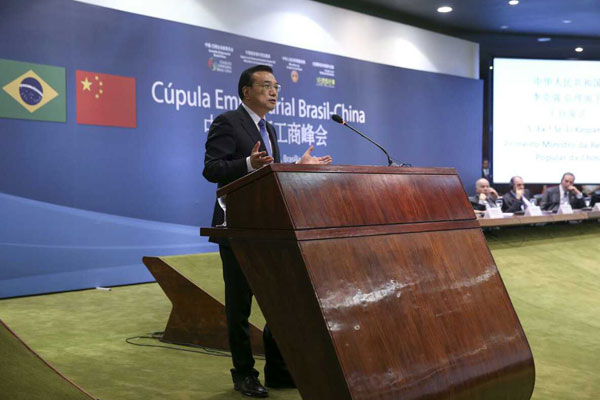 Premier Li Keqiang addresses a business summit between China and Brazil in Brasilia, capital of the Latin American country on May 19. [Photo/english.gov.cn]
Visiting Premier Li Keqiang and Brazilian President Dilma Rousseff attended a China-Brazil Business Summit on May 19, where the former proposed a "3 x 3" model for boosting China-Latin America collaboration on production capacity.
Addressing the summit, Premier Li noted that China is ready to work with Brazil to boost the diversification of economic and trade structures, deepen cooperation on production capacity, and boost exchanges and collaboration on science and technology, and education.
The Premier suggested that international collaboration on production capacity will usher in breakthroughs and boost the transformation and upgrading of China-Latin America cooperation.
This will help revive the global economy, be a win-win for multiple parties and benefit the public with the outcomes of development, he said.
He expressed China's willingness to discuss and explore the new "3 x 3" model with the Latin America side.
First, domestic demand in Latin America will be met through three passages of logistics, power and information. Chinese enterprises are ready to work with their Latin American counterparts on:
- a logistics pathway, mainly supported by railways, and spanning the South American continent and all Caribbean countries.
- a power pathway that links all Latin American countries by highly efficient power transmission and intelligent grids.
- an information pathway that is grounded in new-generation Internet and mobile telecommunication technologies and converged big data and cloud computing.
Second, the rules of the market economy will be followed, and a cooperation paradigm will be devised for positive interaction among enterprises, society and government.
Both sides subscribe to the market economy, and their cooperation should follow the path of marketization.
The principle of "being led by enterprises, operated by commercial entities, participated by the community, and boosted by the government" should be followed.
Cooperation on the projects will be implemented by means such as joint investment, public-private partnerships or joint franchising.
Third, three financing channels - funds, loans and insurance - should be expanded when focusing on bilateral projects.
China will establish a fund specifically for China-Latin America production capacity collaboration, which will offer financing of $30 billion in total to support bilateral projects on production capacity and equipment manufacturing.
China is willing to expand cooperation with Latin American countries in regard to aspects such as currency swap and currency settlement to jointly champion the stability of regional and world financial markets.