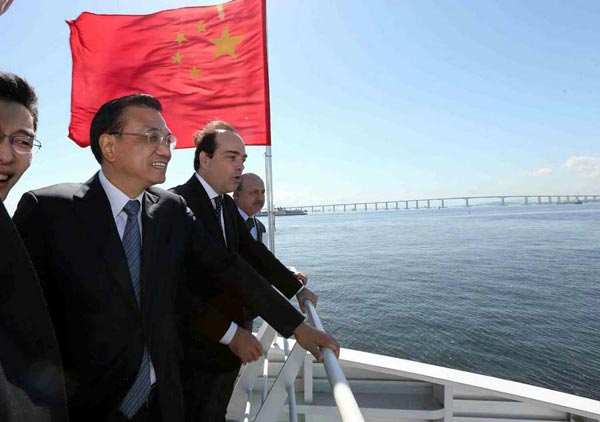 Premier Li Keqiang boards the Sugar Loaf Mountain ferry in Rio de Janeiro on May 20, 2015. The ferry was made in China and is named after one of Rio's biggest tourist attractions and has a capacity of 2,000 passengers. [Photo/english.gov.cn]
China has pledged to open more manufacturing plants and maintenance centers in Brazil, which, along with the export of heavy equipment, is expected to boost Brazil's economy on two fronts. "China hopes not only to export advanced and environmentally friendly equipment to Brazil, but also to open plants and maintenance centers to create jobs," Chinese Premier Li Keqiang said during a seminar on Wednesday with Chinese and Brazilian corporate leaders in Rio de Janeiro.
"China is willing to cooperate with Brazil in industrial sectors such as automobiles, steel and construction materials," Li said. "We hope to export not only advanced technologies and equipment to Brazil, but also to set up factories and production streamlines to help create jobs."
In return, China is willing to import beef and other competitive products from Brazil, Li said.
China's commitment is expected to help the Brazilian government create jobs and improve people's lives, as Latin America's largest economy copes with a fifth straight year of poor growth, difficulties in lending, and inflation.
To deepen bilateral economic cooperation, Li said the two governments have to create more opportunities for business leaders to meet and settle deals. In addition, financial institutions from both sides should offer financing support as well.