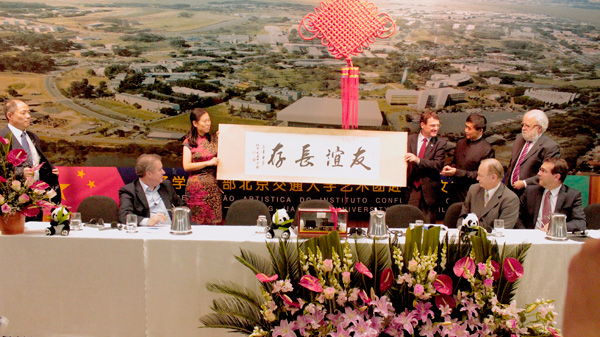 Jose Tadeu Jorge (left), president of the State University of Campinas, and Ning Bin, president of the Beijing Jiaotong University, unveiled the nameplate of the Confucius Institute on April 22. Photo by Wang Zhengrun
Brazil's eighth Confucius Institute has opened at the State University of Campinas, reflecting a growth in the demand for Chinese language in the country.
The Confucius Institute (CI) is an educational and cultural exchange organization established by the Office of Chinese Language Council International, colloquially known as Hanban. CI's objective is teaching Mandarin and spreading Chinese culture all over the world. The newly-established one in Brazil is co-organized by the Beijing Jiaotong University (BJTU) and the University of Campinas (UNICAMP).
At the opening ceremony on April 22, Ning Bin, president of BJTU, said that the Confucius Institute at the Campinas campus opens a new chapter for further cultural exchange and promotes the development of economic and technical exchanges between China and Brazil.
"The partnership between BJTU and UNICAMP will not only aim for teaching Chinese language, but also for the exchange of each other's teachers and students, and the technical cooperation in the fields of economy, logistics and rail transportation," Ning added.
BJTU is one of the best Chinese academic institutes for engineering. It has a high technology laboratory for transport logistics, and is responsible for the construction of major subways in China, like the one from Shanghai to Beijing. It is also very well known for its research on alternative fuel.
Jose Tadeu Jorge, president of UNICAMP, said that the philosophy of Confucius plays an important role in Chinese history, enlightening generation after generation. He said he was very pleased to partner with BJTU to promote Chinese culture in Brazil.
Shi Zequn, cultural counselor of the Chinese embassy in Brazil, told China Daily that besides the eight Confucius institutes, two more will be established, ushering in a new stage of cultural exchange between the two countries. Most Confucius institutes are located in the southeastern region of Brazil, where the Chinese presence is most prominent. There also are Confucius institutes in Brasilia, Porto Alegre and Recife.
As economic ties between China and Brazil deepen, more Brazilians are becoming interested in Chinese culture and language. Confucius institutes have created unprecedented opportunities for increasing the number of students studying both areas Some of the local language schools also offer Chinese classes. Cultural exchanges between Brazil and China are expected to increase as the two countries increase ties as strategic partners.
One of the biggest challenges for the Confucius institutes in Brazil is the lack of teachers who can speak Portuguese and Chinese. Chinese students majoring in Portuguese usually enter business or government after graduation; few choose to be teachers. As a result, many of the teachers at Confucius institutes in Brazil are young volunteers who can't speak Portuguese, often leading to communication problems. Also, the institutes don't have textbooks in Portuguese.
Jose Tadeu Jorge (left), president of the State University of Campinas, and Ning Bin, president of the Beijing Jiaotong University, unveiled the nameplate of the Confucius Institute on April 22. Photo by Wang Zhengrun