China set to explore cooperation with Poland in areas including finance, new energy, agriculture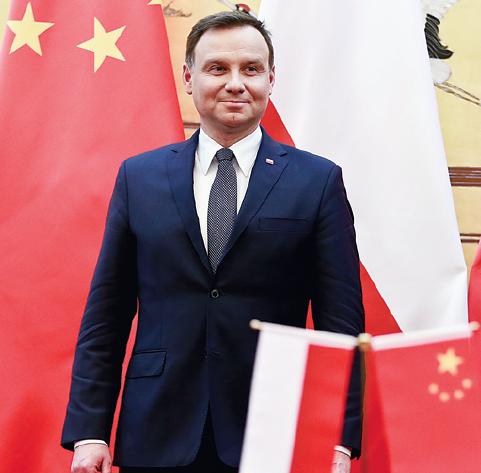 Polish President Andrzej Duda attends a signing ceremony for cooperation with China in the Great Hall of the People in Beijing on Wednesday. FENG YONGBIN / CHINA DAILY
China will explore a new logistics corridor to reach Central and Eastern Europe through Poland, President Xi Jinping said on Wednesday.
Xi made the remarks when meeting with Polish President Andrzej Duda at the Great Hall of the People.
"You have chosen China as the only Asian country to visit within 100 days of taking office - testimony to the high importance you attach to Poland's relations with China," Xi told Duda.
The Polish president, who took office in August, attended the Fourth Summit of China and Central and Eastern European Countries in Suzhou, Jiangsu province, on Tuesday and Wednesday. He was also making an official visit to China.
On Tuesday in Shanghai, the first stop on his visit, Duda led nearly 60 Polish companies that signed cooperation deals with China.
At Wednesday's meeting, Xi said the two nations need to accelerate the process of linking China's Belt and Road Initiative with Poland's national development strategy.
He also said China expects to explore cooperation with Poland in various areas including finance, new energy and agriculture.
Xi said Poland was one of the first countries to recognize and establish diplomatic ties with the People's Republic of China, adding that Beijing has always cherished these ties.
Duda said Poland is eager to play an important role in the Belt and Road Initiative and also in the Asia Infrastructure Investment Bank.
After the meeting, the leaders witnessed the signing of cooperation documents covering tourism, financing, trade and production capacity.
"Duda was the only foreign president to attend the meeting of China and Central and Eastern European countries, which showed the importance he attaches to ties with China," said Liu Haixing, director-general of the Department of European Affairs at the Foreign Ministry.
The meeting with Xi lasted longer than scheduled, Liu told reporters.
Duda said ahead of his visit that Poland could become a type of logistics center for China's Belt and Road Initiative and act as an "ambassador" in relations between China, Central and Eastern Europe and the European Union.
He described the proposed economic link between Asia and Europe as an "ingenious idea" connecting two areas of the world, stressing the strategic importance of Poland's location.
Poland is China's largest trading partner in Central and Eastern Europe, while China is Poland's third-largest supplier of imports.
Trade between the two countries reached $17.2 billion last year.
lixiaokun@chinadaily.com.cn