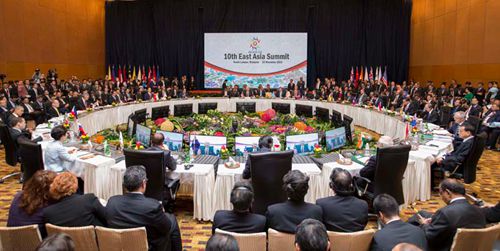 Premier Li Keqiang attended 10th East Asia Summit in Kuala Lumpur, Nov 22. [Photo/cctv.com]
Premier Li Keqiang attended the 18th ASEAN (Association of Southeast Asian Nations)-China (10+1) leaders' meeting, 18th ASEAN-China, Japan and South Korea (10+3) leaders' meeting, and 10th East Asia Summit in Kuala Lumpur, last week.
He spoke about Beijing's cooperation strategy for East Asia that is open, inclusive with complementary "concentric circles" patterns.
The core "concentric circles" would be China - ASEAN cooperation, which is the major framework for China to be involved in cooperation in East Asia. Li reaffirmed ASEAN as the priority for Beijing's diplomacy with neighboring countries. He highlighted ASEAN integration, community building and its central status in the region.
Li proposed China-ASEAN relations' development should cover infrastructure, trade, finance, "One Belt, One Road" initiative, security cooperation, capacity cooperation, sustainable development, and cultural exchanges to reflect Beijing's sincerity for deepening cooperation with ASEAN.
The official ASEAN Community will be founded this year. 2016 marks the 25th anniversary of the China-ASEAN dialogue partnership. Li called for ASEAN members to be more confident.
The second ring of "concentric circles" would be cooperation in ASEAN-China, Japan and South Korea as the main channels for East Asian cooperation. From the perspective of geopolitics and geo-economics, cooperation under the 10+3 mechanism is an ideal framework.
However in recent years, China-Japan and Japan-South Korea bilateral relations have faced changing dynamics.
The resumption of the China-Japan-South Korea tripartite summit in early November this year has sparked a good opportunity to strengthen 10+3 cooperation. Li endorsed the 10+3 summit.
The outermost ring of "concentric circles" is the East Asia Summit, which is a platform for states within and outside the region to implement strategic communications and pragmatic cooperation.
The East Asia Summit reflects the openness of regional cooperation. For instance, discussing the South China Sea issue at the meeting is no longer taboo for China.
Li has taken all parties' involved into consideration and favors an operable approach, requiring member States to participate in the East Asia Summit with constructive attitudes instead of taking sides against Beijing.
The "concentric circles" define Beijing's cooperation in East Asia, emphasizing a progressive relationship..
The insistence on a 10+3 mechanism channel reflects Beijing's belief to promote the East Asian economic community and to achieve peace and development. Beijing endorses maximum inclusiveness. Yet, inclusiveness does not suggest anyone should undermine its sovereignty and security.