Premier Li Keqiang visited the historic Malaysian port city of Malacca on Sunday. Here are the highlights of his day.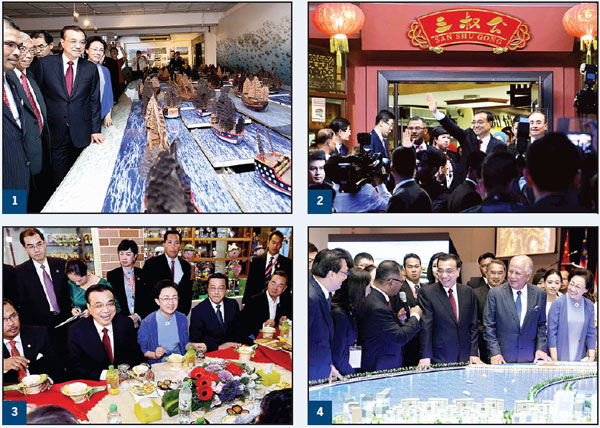 1. Mariner's role recalled
The first stop was the Cheng Ho Cultural Museum, a symbolic venue that commemorates the voyages of mariner Admiral Zheng He, believed to be the initiator of the ancient Maritime Silk Road.
When Zheng arrived 600 years ago, commanding what was then the world's most powerful fleet, he was not on a mission of plunder, expansion or colonization, Li said.
Instead, his voyage led to trade and cooperation and this goodwill adventurer is still revered as a visionary of peace.
Li also said that the name "He" embodies peace and harmony - a reflection of the Chinese people's respect for peace and good-neighborliness.
2. Residents out in force
The premier received a warm welcome from Malacca residents, with banners bearing greetings in Chinese posted along his route.
Jonker Street, the central thoroughfare in the city's Chinatown, known for its antique shops, was crowded with well-wishers. When Li arrived outside the San Shu Gong specialty shop, people cheered and raised their phones to take pictures.
3. Acquaintances renewed
Li met with many residents and presented them with a first edition of the classic Chinese novel Journey to the West in Malay. He also met with several friends he made during a visit to Malaysia 19 years ago and thanked them for their role in promoting friendship between the two countries.
He said his trip this time helped him realize that Zheng He was still remembered by people in Malacca as he had deepened friendly exchanges between China and Malaysia.
He added that people need to adopt the mariner's spirit of peace and harmony and take this with them into the future.
4. Project model inspected
The premier inspected the model for an industrial park.
This major project is being built by companies from Malacca and Guangdong province and will be a center for the logistics and high-tech marine industry with deep-sea port facilities.
Li said the park, with its geographical advantages and considerable development prospects, will stimulate the local economy, boost the number of industries and promote practical cooperation between China and Malaysia.