Beijing will buy more government bonds from the Southeast Asian nation, premier says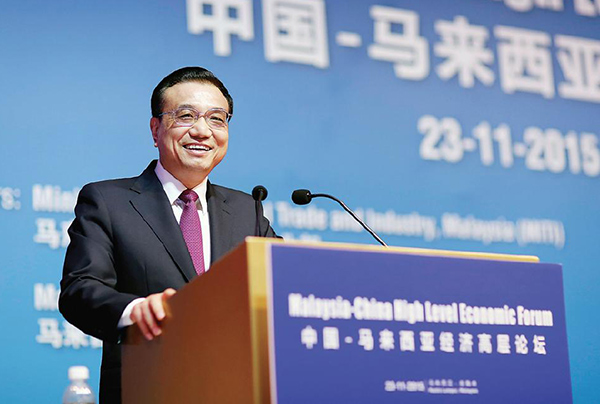 Premier Li Keqiang delivers the keynote speech at the Malaysia-China High Level Economic Forum in Kuala Lumpur on Monday. [Photo by Liu Zhen / China News Service]
China will buy more Malaysian government bonds and give the country a 50 billion yuan ($7.82 billion) quota for investing in Chinese stocks and bonds, Premier Li Keqiang said on Monday.
He announced the decision at a business forum in Kuala Lumpur as Beijing looks to strengthen ties with Southeast Asia.
Li told more than 500 businesspeople from the two countries that China is willing to step up financial cooperation with Malaysia and to buy Malaysian sovereign bonds while issuing renminbi-denominated bonds in the country.
China will also grant Malaysia the 50 billion yuan quota under the Renminbi Qualified Foreign Institutional Investors program, allowing Malaysian investors to buy Chinese stocks and bonds.
Malaysia's currency, the ringgit, has lost nearly 20 percent of its value against the US dollar this year.
"Financial instability is increasing, especially in emerging markets and developing countries. Some of them suffer from high inflation and depreciation of currencies. ...
"The stabilization of China-Malaysia economic cooperation requires a stabilized bilateral finance system," the premier said.
"China is willing to buy Malaysian government bonds under market principles," he added.
China signed a memorandum of understanding with Malaysia last year to set up a renminbi clearing bank in the country - the first of its kind that China has agreed to with an emerging economy in Asia.
It marked an important recognition of Malaysia's role as a key renminbi offshore center in the region.
Li also pledged to jointly combat all forms of terrorism with the Malaysian government to ensure a stable business environment.
"Business has been increasingly connected with politics. We are challenged not only by economic difficulties, but also threats of terrorism," he said.
Li added that China will lower obstacles to market access on non-commodities trade to Malaysia, which is China's top trading partner among member countries of the Association of Southeast Asian Nations.
China has been Malaysia's largest trading partner since 2009, while Malaysia remains China's largest trading partner in ASEAN, with bilateral trade last year totaling almost $102 billion. The two countries are working to achieve $160 billion by 2017.
China is one of the top foreign investors in Malaysia. By the end of last year, 182 manufacturing projects with participation from China had been implemented, with total investment of $2.83 billion.
Malaysian Prime Minister Najib Razak said in a letter to the forum that Malaysia is committed to further strengthening its relationship with China in various fields.
In the letter, Najib said he welcomes the establishment of the Xiamen University Malaysia Campus in Sepang, Malaysia - the first overseas campus of a Chinese university approved by the Chinese government.
Contact the writer at zhaoyinan@chinadaily.com.cn