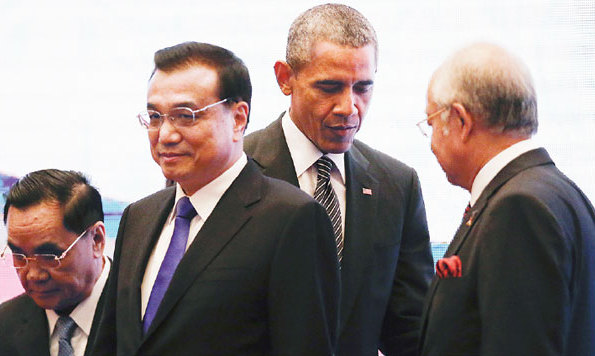 Premier Li Keqiang, Laotian Prime Minister Thongsing Thammavong (first from left), US President Barack Obama and Malaysian Prime Minister Najib Razak attend a group photo session at the 27th ASEAN Summit in Kuala Lumpur on Sunday. [Photo/Agencies]
Premier Li Keqiang was invited to witness ASEAN member state leaders sign the Kuala Lumpur Declaration on Sunday, a document announcing the establishment of the ASEAN Economic Community on Dec 31, a development that has been eight years in the making.
The Economic Community is designed to make the 10 ASEAN member states a single market and production base with freer movement of goods and services, as well as one opening up a market with a population of 630 million in the region.
It will be one of the bloc's three supporting pillars, together with the ASEAN Political and Security Community and Socio-Cultural Community.
Malaysian Prime Minister Najib Razak said at the signing ceremony, "For that (community) - with common standards, far greater connectivity, and the removal of the barriers that make our borders a hindrance to growth and investment - will be one that is primed to expand, exponentially".
Huge potential
Najib said the new economic community's GDP is expected to reach $4.7 trillion by 2020 and ASEAN has the potential to be the fourth-largest economy in the world as early as 2030.
"There is so much we stand to gain economically that will benefit the daily lives of all our citizens," he said.
Chinese Ambassador to ASEAN Xu Bu said Beijing has always been an important external supporter of the establishment of the ASEAN Community.
"China has prepared mechanisms to support possible production capacity cooperation with the ASEAN Economic Community with its Maritime Silk Road initiative, enabling the two economies to have excellent distribution and transportation of resources to boost the cooperation," Xu said.
He added that the expected community would definitely serve as a huge economic entity that could provide profound development opportunities and deepens economic and trade relations, especially regarding cooperation in production capacity between ASEAN and China.