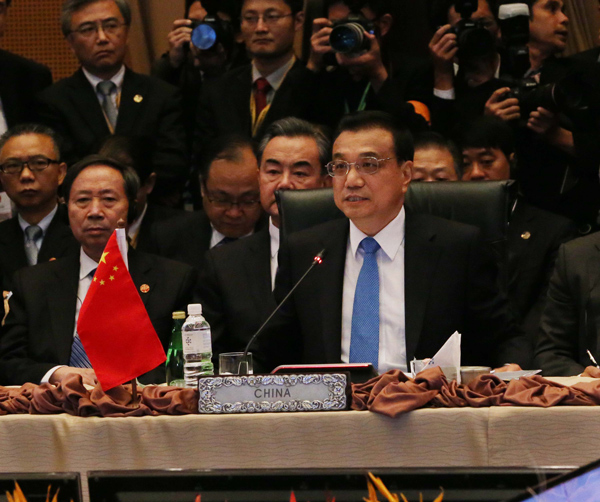 Chinese Premier Li Keqiang addresses the 18th ASEAN-China summit in Kuala Lumpur, Malaysia, Nov 21, 2015. [Photo/Xinhua]
Premier Li Keqiang proposed "synergizing" China's Belt and Road Initiative with the connectivity plan of ASEAN member countries.
Li put forward his proposal at the 18th China-ASEAN Leaders' Meeting in Kuala Lumpur on Saturday.
In particular, he called for the early construction of rail lines connecting China with Thailand and Laos.
This was in addition to better regional telecommunications links and highlighting the role of Beijing-led financing vehicles, including the Asian Infrastructure Investment Bank and the Silk Road Fund.
At the 18th China, South Korea, Japan and ASEAN Leaders' Meeting, also on Saturday, Li suggested upgrading economic integration in East Asia and improving the region's financial stability.
Vitavas Srivihok, deputy permanent secretary at the Thai Ministry of Foreign Affairs, told Xinhua News Agency in a recent interview that Thailand appreciates China for its constructive role in promoting regional connectivity through various initiatives.
These include establishing the Asian Infrastructure Investment Bank and launching the 21st Century Maritime Silk Road.
"We believe that effective connectivity would help to promote trade, investment and tourism within and between the region," he said.
Wei Ling, director and researcher at the Institute of Asian Studies at China Foreign Affairs University, said cooperation on quarantine measures and navigation safety between China and ASEAN countries should be improved as the first step in seeking better maritime connectivity.
"In addition, ASEAN countries could seek funding from the Asian Infrastructure Investment Bank or through the public-private partnership proposed by Beijing to ease financing difficulties in the region.
"The general connectivity plan for ASEAN countries was approved in 2010, and its implementation is now the biggest concern of the members," she said.
Wei said that if the plan is carried out "faithfully", it will help ASEAN countries to play a bigger role in regional economic cooperation and improve their say in global affairs.
The connectivity of ASEAN countries covers transportation, telecommunication, energy resources and other economic sectors, in addition to government agreements on free trade, regional transportation and cooperation on education, culture and tourism.
"All this is interlinked with the proposals for the 21st Century Maritime Silk Road, which includes policy coordination, transportation connectivity, trade facilitation, currency exchanges and people-to-people exchanges," Wei said.
Contact the writer at anbaijie@chinadaily.com.cn