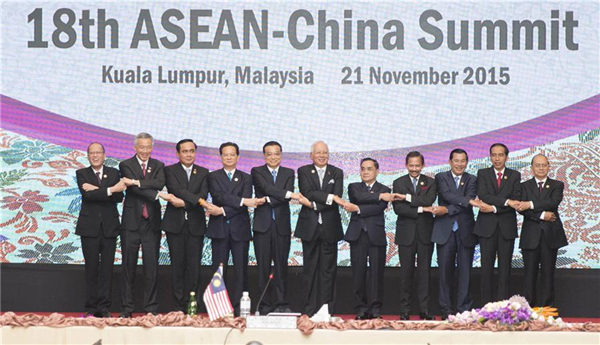 Chinese Premier Li Keqiang (5th L) poses for a group photo with ASEAN members' leaders during the 18th ASEAN-China leaders' meeting in Kuala Lumpur, Malaysia, Nov. 21, 2015. [Photo/Xinhua]
KUALA LUMPUR - The two-day 27th leaders' meeting of the Association of Southeast Asian Nations (ASEAN) and related meetings concluded here Sunday with the adoption of two landmark documents for the bloc's further growth and prosperity.
Speaking at the closing session, Malaysian Prime Minister Najib Razak, whose country takes on ASEAN rotating chair in 2015, said in the last two days useful discussions were held and views were exchanged not just on ASEAN, but also on the Asia-Pacific and beyond.
The two landmark documents, the 2015 Kuala Lumpur Declaration on the Establishment of the ASEAN Community and the Kuala Lumpur Declaration on ASEAN 2025, adopted at the meeting would serve ASEAN as a guide for the next 10 years and also marks a turning point in the region, Najib said.
"We have proved to the world that this bloc of nations can be the Asia-Pacific's most competitive regional grouping and a coming force on the international stage."
"Together, we will achieve this. And together, we will deliver on our pledges to further improve the lives of the people of ASEAN, and to realize an ASEAN that is truly of the people, and for the people," the Malaysian prime minister said.
Najib called on ASEAN to be serious about the implementation of the road-map of the ASEAN Community by mobilizing the necessary resources to ensure that the steps agreed to take are put into action.
Also at the closing session, Najib ceremoniously handed over the gavel, the symbol of the ASEAN chairmanship, to Lao Prime Minister Thongsing Thammavong.
According to one of the two landmark documents, the ASEAN Community will be established on Dec. 31, 2015 which comprises three pillars: the Political and Security Community, the Economic Community and the Socio-Cultural Community, a milestone in the bloc's integration. It will usher in a new starting point in the bloc's development and create more opportunities of cooperation for the member states.
Vision 2025 is designed to sustain the momentum of the integration in the region and further boost the efforts in building the ASEAN Community.
Along with the 27th ASEAN leaders' meeting, the 18th ASEAN-China leaders' meeting, the 18th ASEAN Plus Three (China, South Korea and Japan) leaders' meeting, the 10th East Asia leaders' meeting, the 7th ASEAN-United Nations leaders' meeting, among others, were also held here in the last two days.
Founded in 1967, ASEAN groups Indonesia, Malaysia, the Philippines, Singapore, Thailand, Brunei, Cambodia, Laos, Myanmar and Vietnam. It aims to accelerate economic growth, social progress and socio-cultural evolution among its members.