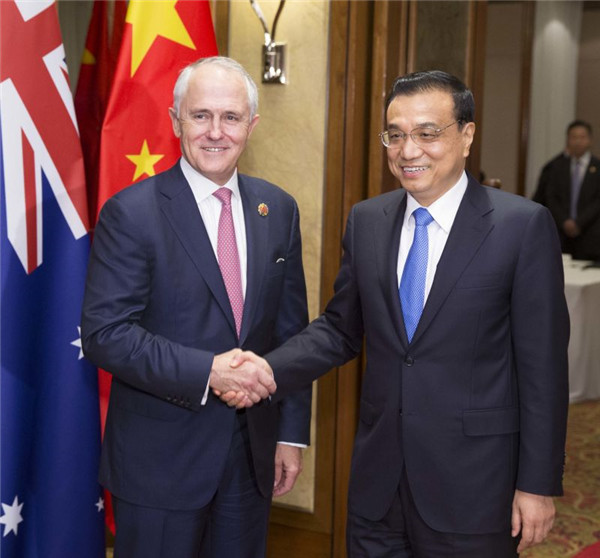 Chinese Premier Li Keqiang (right) shakes hands with Australian Prime Minister Malcolm Turnbull during their meeting on the sidelines of a series of regional summits in Kuala Lumpur, Malaysia, Nov 21, 2015. [Photo/Xinhua]
KUALA LUMPUR - Chinese Premier Li Keqiang said Saturday that his country is ready to work with Australia to put their free trade agreement (FTA) into effect as soon as possible before the end of the year.
In a meeting with his Australian counterpart, Malcolm Turnbull, on the sidelines of a series of East Asian leaders' meetings, Li also called on the two countries to raise the level of mutual investment.
China welcomes more Australian companies to invest and develop in China and hopes that Australia will provide more conveniences for Chinese investors, Li said.
Noting that China and Australia are both major countries in the Asian-Pacific region and important cooperation partners of each other, Li said deepening bilateral cooperation serves the fundamental interests of both nations and contributes to regional peace, stability and prosperity.
China, under the new circumstances, is ready to work with Australia to cement political mutual trust, expand win-win cooperation and properly deal with differences, so as to lift bilateral ties to a new height, he added.
Li called on the two countries to draw on their advantages to carry out production capacity cooperation in such areas as energy and resources, infrastructure, manufacturing and maritime affairs.
Meanwhile, they should join hands to explore third-party markets and expand bilateral cooperation into more areas, he suggested.
He also called for concerted efforts to broaden cultural exchanges, further lift the scale of implementation of Australia's New Colombo Plan in China, deepen exchanges and practical cooperation at local levels, and roll out more measures to facilitate people-to-people exchanges.