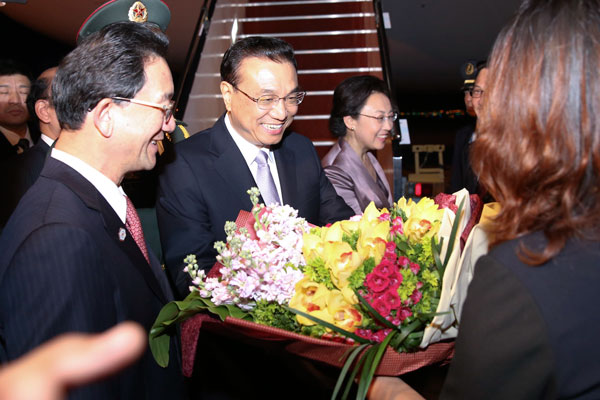 Chinese Premier Li Keqiang and his wife Cheng Hong arrive in Kuala Lumpur, Malaysia, November 20, 2015. [Photo by Liu Zhen/China News Service]
Premier says two nations stand at new starting point in development of bilateral relations
Malaysian government officials and business leaders have high expectations of Premier Li Keqiang's first visit to Malaysia, saying Li's visit will definitely consolidate the thousand-year-long friendship between the two countries and will promote friendly and cooperative bilateral relations.
Li arrived in Kuala Lumpur on Friday, to attend a series of annual leaders' meetings on East Asian cooperation and pay his first official visit to Malaysia till Monday.
Li will attend the 18th leaders' meeting between China and the Association of Southeast Asian Nations, the 18th ASEAN-China, Japan and Republic of Korea leaders' meeting, and the 10th East Asia Summit.
In a signed article published on Friday by major Malaysian newspapers ahead of his trip to the Southeast Asian nation, Li said China and Malaysia, standing at a new starting point for development in relations, should continue to view and grow bilateral ties from a strategic perspective.
"I am no stranger to this beautiful country, as I visited Malaysia in 1996 when the Twin Towers of Kuala Lumpur were just completed," Li said, noting that Malaysia has witnessed impressive and admirable achievements in the past two decades.
Dato' Goh Hin San, chairman of Malaysia Han Culture Center, who once met Li on his trip in the 90s, still has the vivid memories. According to Goh, the Malaysian-language version of Journey to the West, one of the classics of Chinese literature, will be released during Li's visit.
"This will be a new and brilliant chapter in the history of cultural exchange between the two countries," he added.
In Li's article, he noted that as China is advancing the Belt and Road Initiative, encouraging mass entrepreneurship and innovation, and transforming and upgrading its economic structure, Malaysia is also gearing toward all-around economic transformation with the New Economic Model aimed at more robust growth.
"I see this as offering each other a perfect opportunity to boost development," he said.
Malaysian International Trade and Industry Deputy Minister Datuk Lee Chee Leong said Li's visit will surely advance trade ties between China and Malaysia to a new level.
China has been Malaysia's largest trading partner for a long time, while Malaysia is China's largest trading partner among ASEAN's 10 member nations. In the first half of this year, the bilateral trade volume between the two nations reached nearly $48.9 billion, an increase of 1.6 percent year-on-year.
Premier Li, in his article, also hailed the achievements which China and Malaysia have made in interactions in politics, economy and people-to-people exchanges. Li said the two countries' development strategies have much in common.
Oh Ei Sun, former political secretary to the prime minister of Malaysia from 2009 to 2011, said under the circumstances of an unstable global economic and increasing terrorist attacks, Li's visit has a significant strategic meaning.
"The two nations' relationship has already been raised to a strategic partnership. China and Malaysia should collaborate more in fighting terrorism and building a peaceful and prosperous regional environment, in addition to economic cooperation," he added.
Contact the writers at zhaoyanrong@chinadaily.com.cn