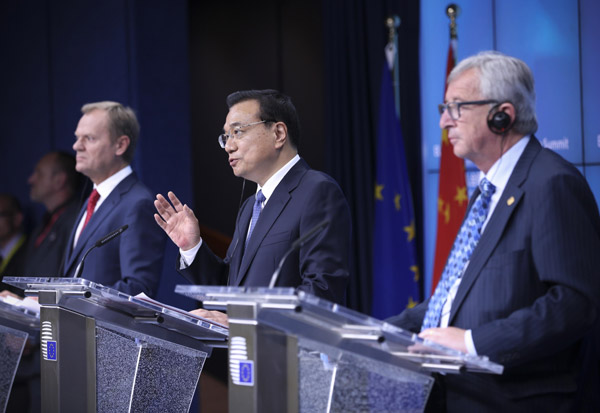 European Council President Donald Tusk (L), Chinese Premier Li Keqiang (C) and European Commission President Jean-Claude Juncker hold a joint news conference during a EU-China summit at the EU Council headquarters in Brussels, Belgium, June 29, 2015. [Photo by Liu Zhen/China News Service]
BRUSSELS - Chinese Premier Li Keqiang said Monday that his country would like to see Greece stay in the euro zone and is willing to play a constructive role in efforts toward that end.
Li made the remarks when meeting the press jointly with President of the European Council Donald Tusk and President of the European Commission Jean-Claude Juncker.
His visit comes as the Greek debt crisis has reached a crucial stage, said Li. As a comprehensive strategic partner and a major trading partner of the European Union (EU), China always supports the European integration process, and is pleased to see a prosperous Europe, a united EU and a strong euro, Li added.
Vassilios Costis, Ambassador of Greece to China, tells China Daily that he and his country are very optimistic of solving the debt crisis. "We have reached the bottom and the solution is the economic take-off." 
The Chinese premier said that the Greek debt crisis is an issue for Europe. However, whether Greece stays in the euro zone concerns not only the stability of the euro, but also global financial stability and economic recovery.
Li said that China has made its own efforts to help Greece handle the sovereign debt crisis and responded to some concerns and requests from the Greek side with concrete actions. The China-Greece relationship is part of China-EU ties, he noted.
Li called on international creditors and Greece to reach a deal as soon as possible in order to avoid a possible debacle for both Greece and the euro zone.
On Sunday, Greek Prime Minister Alexis Tsipras announced a surprise proposal for a referendum on the terms of any bailout deal. His decision came after the last round of talks with lenders in Brussels failed as eurozone finance ministers rejected Athens' request to extend its bailout into July.
Li arrived in Brussels on Sunday for the 17th China-EU leaders' meeting.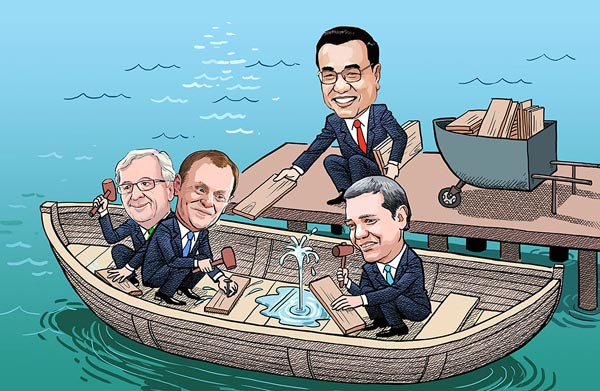 Graphics by China Daily