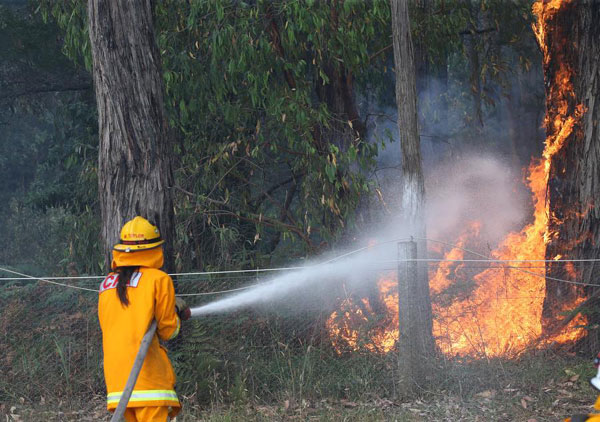 A firefighter battles a bushfire near Wandin, east of Melbourne, during heatwave conditions in southeastern Australia, December 19, 2015. [Photo/Agencies]
SYDNEY - Hundreds of residents and holidaymakers along southern Australia's popular Great Ocean Road were evacuated on Thursday as hot, windy weather threatened to recharge bushfires that destroyed more than 100 homes on Christmas Day.
Residents in three coastal towns in the popular holiday area were advised to leave their homes as temperatures were forecast to reach a high of almost 40 degrees Celsius (104 Fahrenheit). The hot summer weather threatened to escalate fires that have been burning for almost two weeks.
"The local community has listened to the best of advice and will leave their homes because on such a challenging day, with that fire still active, so close to them, it's not safe for them nor is it safe for those who have been called on to protect them," Victoria state Premier Daniel Andrews told reporters.
The fires were started by a lightning strike on Dec. 19 and continue to burn and spread. The Country Fire Authority estimates the blazes have burnt out more than 2,500 hectares (6,175 acres) of land.
Authorities estimate that 116 homes were destroyed by the fires on Christmas Day.
Once the immediate threat has passed, some relief could be on the horizon for residents with temperatures forecast to drop in the coming days. Isolated showers are also predicted for some parts of the southern coast.
The Great Ocean Road is one of Australia's biggest tourist draws with its spectacular scenery and unusual offshore rock formations. Parts of the road remained closed to traffic on Thursday during what is typically one of its busiest times of the year.
In 2009, Victoria witnessed Australia's worst-ever bushfire disaster, with 173 people killed in what has been dubbed "Black Saturday".