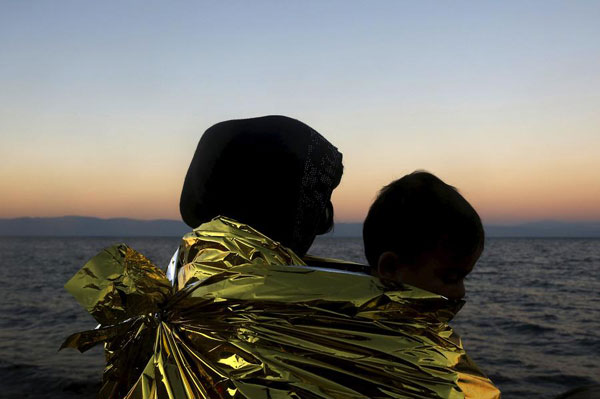 An Afghan woman and her son wear a thermal blanket shortly after arriving at a beach in a raft overcrowded with migrants and refugees in the Greek island of Lesbos, November 20, 2015. [Photo/Agencies]
UNITED NATIONS - More than 1 million refugees and migrants have fled to Europe by sea in 2015, the UN Refugee Agency (UNHCR) reported on Wednesday.
The latest UNHCR figures showed some 1,000,573 people had reached Europe this year across the Mediterranean, mainly to Greece and Italy. And 84 percent of those arriving in Europe came from the world's top 10 refugee producing countries.
Half of those crossing the Mediterranean this year were Syrians escaping the war in their country, the agency said. Afghans accounted for 20 percent and Iraqis for seven percent.
The UNHCR also reported that many refugees and migrants were on board "dangerously inadequate" vessels run by people smugglers. Of those, 3,735 were missing, believed drowned.
"Over one million people have landed on Europe's shores, fleeing war and persecution, seeking a better life for their families," said Vincent Cochetel, UNHCR Director of the Bureau for Europe.
"Tragically, over 3,700 other children, women and men did not survive the perilous journey by sea and their hope for a fresh start died with them," Cochetel said.
In addition to the sea crossings, recent figures also showed that a further 34,000 have crossed from Turkey into Bulgaria and Greece by land, said the UNHCR.
The number of people displaced by war and conflict is currently the highest seen in Western and Central Europe since the Balkan crises of the 1990s, when several conflicts broke out in the former Yugoslavia, said the agency.