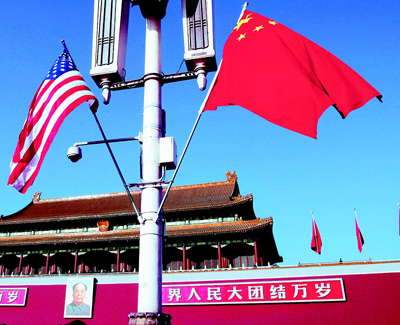 2015 is the 36th anniversary of the establishment of Sino-US diplomatic relations. In the Chinese Zodiac (Shengxiao), 36 years equals to three cycles of Zodiac years, representing a new start. 2015 marked a turning point for bilateral relations.
Beijing's opening-up and reform since the late l970s supplements the development of Sino-US relations. In early 2015, Beijing completed a strategic layout of "Four Comprehensiveness" and initiated a new round of reform, "the future of Sino-US relations" remain a strategic issue to test our wisdom and persistence.
According to a China expert, Harry Harding, bilateral relations between the two powerful nations have sparked a debate, "the biggest one since normalization of relations with China in the 1970s".
Sino-US relations have reached a critical point, raising concerns among Chinese academic and strategic circles as well. Despite the US side announced Chinese President Xi Jinping's first state visit to the US seven months ahead, bilateral relations were still pessimistic.
Such pessimism is due to a shrinking economic gap between Beijing and Washington. When Obama came into power, China's GDP was approximately half of the US, but it has climbed to account for 60% in 2014.
GDP does not mean everything, but China approaches the US in terms of state power. Hence, the Sino-US conflict appears inevitable for some.
There are profound changes of Sino-US domestic politics. The implementation of a "Four Comprehensiveness" has led to the adaption of a national governance system. Meanwhile, the US will elect a new President next year. US Presidential candidates are hyping Chinese topics that escalate tensions.
The major topics of concern are: the South China Sea, cyber space and NGO legislation. Nonetheless, the head of state diplomacy acts as a compass and anchor. When Xi visited the US in September, both parties reached practical achievements on bilateral, regional and global affairs.
As for military relations, Beijing and Washington had included a new military crisis reporting mechanism in the major military action reporting system. Both sides have also agreed to continue consultations on top-level joint dialogue mechanisms to combat cyber crimes and hot line of cyber security in terms of cyber security, as well as to continue discussions over the South China Sea issue.
Both sides have reaffirmed their determination to handle climate change together. Foreign Minister Wang Yi reconfirmed the respective bilateral development direction and strategic goals to increase mutual interests that favor defending peace, stability and development.
Narrowing differences among sensitive issues between both sides is difficult, since it's the most complicated bilateral relationship in the world.
After Xi's US visit, Washington sparked new challenges on the South China Sea issue and is continuing its arms sale to Taiwan. Yet, Sino-US relations have gotten more mature with better cooperation.
Consequently, the two nations' contention for Asia-Pacific dominance and global rules had turned more fierce, however, cooperation on the Iran Nuclear Issue, climate change and global economic governance stand as unprecedented. This might be the New Normal of Sino-US relations.