Washington's deployment of a P8 Poseidon spy plane to Singapore this month was criticized by Beijing on Tuesday as part of a US attempt to militarize the South China Sea that does not serve the "common and long-term interests" of the region.
P8 aircraft have made headlines in recent years for their role at the forefront of US challenges to China.
In a joint statement after a meeting in Washington on Monday, US Defense Secretary Ash Carter and Singapore Defense Minister Ng Eng Hen announced that the aircraft would be in Singapore from Dec 7 to 14.
The announcement was made after an enhanced defense-cooperation agreement was signed by Carter and Ng.
The United States already operates P8s from Japan and the Philippines and has conducted surveillance flights from Singapore's neighbor, Malaysia.
Reuters referred to Monday's announcement as "a fresh response" to China. It also quoted an unnamed US defense official as saying that further deployments to Singapore could be expected.
China's Ministry of Defense said that China is keeping close watch on the issue.
"(We) hope the bilateral defense cooperation between relevant countries is conducive to regional peace and stability, not otherwise," the ministry said in response to the news.
Foreign Ministry spokesman Hua Chunying said at a regular news conference on Tuesday that the overall situation in the South China Sea "has remained peaceful and stable", but the US is trying to "strengthen military deployment and boost the militarization of the region".
Such actions show that the US is "not living up to the common, long-term interests of the regional countries", Hua said, adding that Beijing wanted relevant parties to do more to "boost mutual trust among the regional countries" and to facilitate peace and development.
Pang Zhongying, dean of the School of International Relations at Sun Yat-sen University in Guangzhou, said planning and preparation were in place long before the announcement of the P8's deployment.
"Washington is still pressuring Beijing and, as it has planned, is still trying to keep tensions from cooling," Pang said.
In Washington on Tuesday, Abraham Denmark, the US deputy assistant secretary of defense for East Asia, blamed some of China's conduct for contributing to tension in the Asia Pacific and prevented the bilateral relationship from reaching its full potential.
Harsh rhetoric aside, Denmark said the US is working to build deeper and more effective partnerships in the region, including with China, citing the example that Carter has accepted an invitation from President Xi Jinping to visit China in 2016.
Denmark praised Xi's reaffirmation of China's commitment to freedom of navigation and overflight and China has no intention to militarize the South China Sea islands. But he said words must be followed by actions.
Most Chinese regard the US as biased in favor of its allies in handing the maritime territorial disputes in the East and South China seas.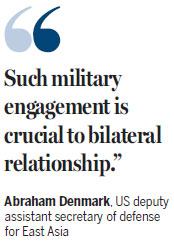 Denmark said the Pentagon will continue to conduct military-to-military engagement with China to enhance understanding and practice of international norms. "Such military engagement is crucial to bilateral relationship," he said.
Denmark also praised the confidence-building measures between the two militaries regarding air-to-air encounter and crisis management, saying it had real-world application within 60 days when the PLA Navy used a defense telephone to request a call with the US chief of naval operations following the USS Lassen's high-profile entry without permission in October into South China Sea waters claimed by China.
The two sides participated in the video conference to discuss recent operations in the sea, as well as ongoing and future engagement between the two navies.
"These developments showcase the benefits of practical cooperation and shared objective of the two militaries to improve relations and reduce risks in these confidence-building measures," he said.
Reuters contributed to this story.