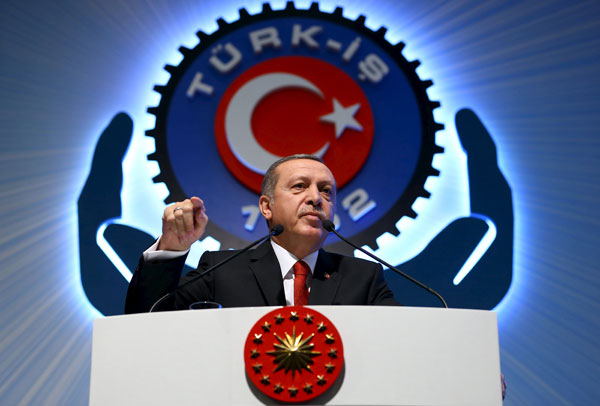 Turkey's President Tayyip Erdogan addresses the audience during a meeting in Ankara, Turkey, December 3, 2015.[Photo/Agencies]
ANKARA - Turkey claims to hold proof that some Russians are involved in illicit oil trade with the Islamic State (IS) in Syria, Turkish President Recep Tayyip Erdogan said Thursday.
Turkey's claim comes in the aftermath of Russian accusations that Erdogan and his family are involved in oil trade with IS after Turkey downed one of Russia's warplanes on Nov. 24.
Russia's Deputy Defense Minister, Anatoly Antonov, declared Wednesday that Turkish President Erdogan and his family are involved in oil trade with IS.
"Turkey is the major purchaser of illegal oil from legitimate Syrian and Iraqi owners. According to the evidence we have gathered, the highest political elite in Turkey are involved in this criminal activity, including President Erdogan and his family."
Antonov also added that Russia is currently executing air strikes targeting oil pumps, refineries as well as transport tankers in order to prevent oil smuggling along the Syrian-Turkish border, a necessary precursor for defeating IS.
Relations between Moscow and Ankara soured after Turkey downed a Russian warplane along Syria's border on Nov. 24, claiming its national airspace was violated.
In response, Erdogan claimed during a televised speech that George Hasawi, a Syrian holding a Russian passport, was the lead agent in illegal oil purchases from IS.
Earlier, the Turkish leader said he would be ready to resign if Russia managed to prove the allegations.
George Hasawi purchases oil directly from IS, then sells it to the Syrian regime and international clients, he added.
The Turkish president also implied that Kirsan Ilyumzhinov, president of the Russian Chess Federation, was another Russian national involved in illegal oil trade with IS.
"We possess definitive proof which we will reveal to the world," Erdogan said, noting that the US treasury also announced similar allegations.
Oil revenue is one of the main sources for terrorist activities in Syria, bringing in around two billion US dollars in annual earnings.