Coal is likely to be one of the major topics at the Paris talks on climate change, as the most widely used energy resource also is responsible for 44 percent of global carbon dioxide emissions. But declines in China's import demand have led to a drop in total world coal trade, according to a US report.
Global trading of coal increased dramatically from 2008 to 2013, and China and India accounted for 98 percent of that total, according to a November report by the US Energy Information Administration (EIA). In 2014, China's coal imports declined and probably will also fall in 2015, said Michael Mellish of the EIA in an interview. "India's demand for coal continues to rise," he said.
There are recoverable coal reserves in 70 countries, and the United State, China and India are the top producers and consumers of coal. Worldwide, coal supplies nearly 30 percent of energy use and is responsible for 44 percent of global CO2 (carbon dioxide) emissions, according to the Center for Climate and Energy Solutions.
China Customs Statistics that the EIA receives through a third-party (IHS) indicate that Chinese coal imports decreased by 11 percent from 2013 and 2014, and by 30 percent in the first three quarters of 2015 compared with the same period in 2014, according to Ayaka Jones, an analyst specializing in China energy and international coal at the EIA.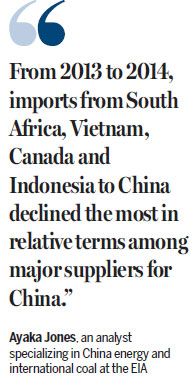 "The main drivers of the recent declines in China's coal imports are slower domestic coal demand growth, especially due to the restrictions on coal use in the developed coastal regions where most of the imported coal were consumed; government policies affecting coal imports; and increasing competitiveness of domestic coal supplies as a result of years of significant investment in coal production expansion," Jones said.
China imported 341 million tons of coal in 2013, up from 45 million tons in 2008. "From 2013 to 2014, imports from South Africa, Vietnam, Canada and Indonesia to China declined the most in relative terms among major suppliers for China," said Jones.
"US exports to China are a small percentage of total US exports," said Mellish, who noted that Europe is the core market for US exports.
Even though China is adding new coal-fired power plants, coal output in the mainland, the world's largest coal producer, continued to decline in the first 10 months of 2015. China's coal production fell 3.6 percent year-on-year to 3.05 billion tons in the first 10 months, according to the National Development and Reform Commission.
Xie Zhenhua, China's special representative on climate change, told CNN that the capacity of coal-fired power plants shut down by China is more than the nationwide capacity of the UK. "As we close those backward and inefficient power plants, we have replaced them with more efficient, cleaner power plants," Xie said.
paulwelitzkin@chinadailyusa.com
(China Daily USA 11/30/2015 page2)