The stylish Huawei Watch will be available in the UK from vMall, Selfridges and Google Store, Huawei Consumer Business Group announced on Wednesday night.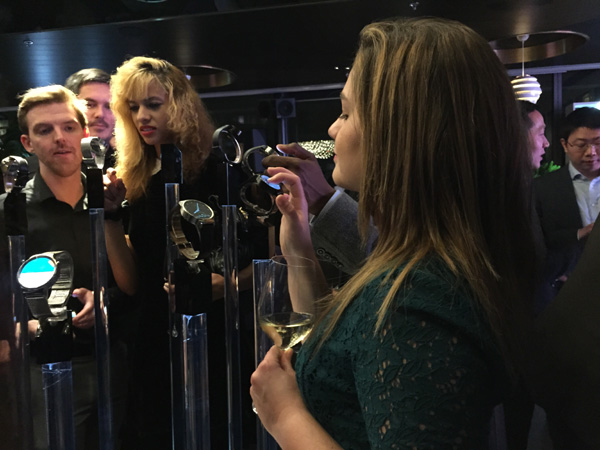 Hua Wei launches the stylish watch in the UK on Wednesday night. [Photo by Zhang Chunyan/chinadaily.com.cn]
The Huawei Watch has taken its design and inspiration from traditional wrist watches and equals any premium timepiece.
It measures 42 mm in diameter, the traditional dimension for wristwatches, and has a fully circular face with its crown located at the two o'clock position.
"The Huawei Watch is the ultimate in smartwatch technology, combining a premium look and feel with smart technology," James Jie, managing director of Huawei UK&I Consumer Business Group, said.
"We are hugely excited to see the Watch go on sale in the UK – another fantastic step for Huawei, offering consumers a clear winner in connected devices within the Android market. We hope that our customers enjoy wearing the Huawei Watch," Jie added.
Crafted using only the most sophisticated materials, the Huawei Watch features a fully circular 1.4-inch touch-sensitive AMOLED display, coated in scratch-proof sapphire crystal, the favoured choice amongst Swiss watch manufacturers.
The Huawei Watch will be available from a wider selection of stores from the end of November. The prices are between 289-599 pounds, depending on the style.
Now on sale, UK consumers can choose from a range of stainless steel and black frames, as well as a choice of 40 bespoke watch face designs.
The choice of straps includes black leather, stainless steel mesh, stainless steel links and black plated stainless steel links. Each strap is easy to change, fitting any face with an 18mm width lug interface.
The Huawei Watch Classic black leather almond tip, stainless steel link and stainless steel mesh are available within the £289 and £329 price point, while the Huawei Watch Active black leather flat tip and black plated stainless steel link cost between £329 and £369.
Richard Jones, Technology Buyer, Selfridges, said: "Watches are an important part of our jewellery range and adding new premium smartwatches, such as the Huawei Watch, to this offering is the natural next step for us. We are confident that the Huawei Watch, with its premium, classic design, will be a popular item with our customers."