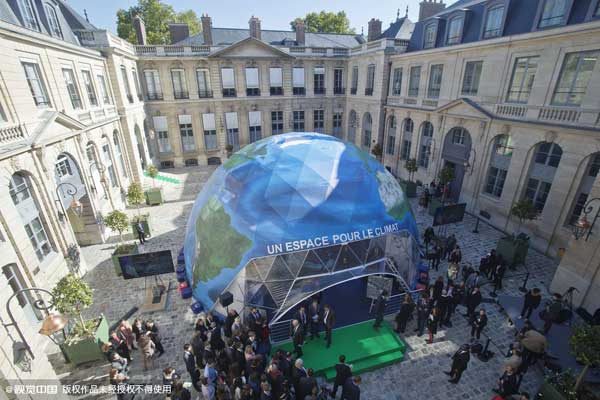 People gather during the inauguration of "A place for the climate" (Un espace pour le climat) exhibition at France's environment ministry on September 30, 2015 in Paris. [Photo/CFP]
Climate change ministers from Brazil, South Africa, India and China, also known as the BASIC countries, said finance will be a decisive factor in the milestone Paris climate summit beginning in late November.
As emerging developing countries, the four share common grounds on crucial issues. The two-day meeting in Beijing was the 21st BASIC ministerial meeting on climate change since 2009.
Developed countries should define a clear road map and pathway toward achieving their goal of providing $100 billion per year by 2020, said Xie Zhenhua, special representative for climate change of China.
In addition, "developed countries should substantially scale up their support in the post-2020 period, with $100 billion per year as a starting point," said Xie.
Developing countries need the financial resources, technology development and transfer and capacity-building support from developed countries to help them cut greenhouse gas emissions and reduce likely damage from climate change.
Ministers expressed their "unequivocal commitment" toward a successful outcome in Paris and committed to work together with other parties to reach an "equitable, ambitious, comprehensive, balanced and durable" Paris agreement.
Izabella Teixeira, minister for the environment of Brazil, said the BASIC countries are committed to addressing climate change and sustainable development and want an agreement based on solutions.
The Paris agreement shall be in full accordance with the principles of equity and common but differentiated responsibilities and respective capabilities, ministers said.