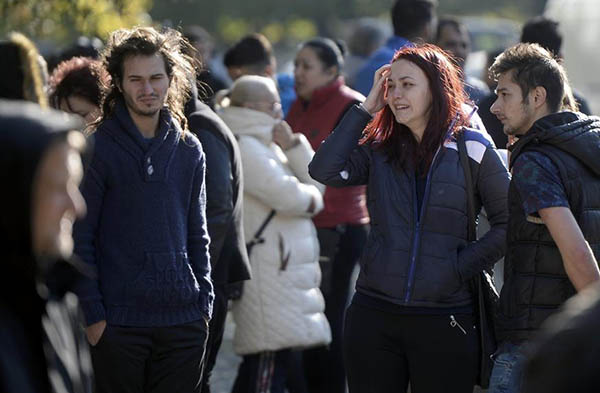 People grief as they wait outside the forensic medical institute Mina Minovici as relatives arrive to identify the victims of a fire that broke inside a nightclub late on Friday, in Bucharest, Romania October 31, 2015. [Photo/Agencies]
MOSCOW, Oct 31 - None of 224 passengers and crew on board a Russian passenger plane that crashed in Egypt's Sinai peninsula on Saturday survived, medical and security sources said.
Search and rescue team members are still gathering the remains of victims, the sources said.
A Russian airliner carrying 224 passengers and crew crashed in Egypt's Sinai peninsula on Saturday, the Egyptian civil aviation authority said.
The Airbus A-321, operated by Russian airline Kogalymavia with registration number KGL-9268, was flying from the Sinai Red Sea resort of Sharm el-Sheikh to St Petersburg in Russia when it went down in a desolate mountainous area of central Sinai soon after daybreak, the aviation ministry said.
It took off at 5:51 a.m. Cairo time (0351 GMT) and disappeared from radar screens 23 minutes later, Egypt's Civil Aviation Ministry said in a statement.
The plane was completely destroyed, the Egyptian security officer who arrived at the scene told Reuters by telephone.
Egyptian security sources said there was no indication that the Airbus jet had been shot down or blown up.
Sinai-based militants who support Islamic State have killed hundreds of Egyptian soldiers and police and have also attacked Western targets in recent months.
After delays caused by poor weather conditions, Egyptian search and rescue teams located the site of the crash in the Hassana area 35 km (22 miles) south of the Sinai Mediterranean coastal city of Al Arish, the aviation ministry statement said.
The plane was at an altitude of 31,000 feet (9,400 metres) when it vanished from radar screens, it said. Rescue service sources said so far five ambulances had managed to reach the venue of the crash.