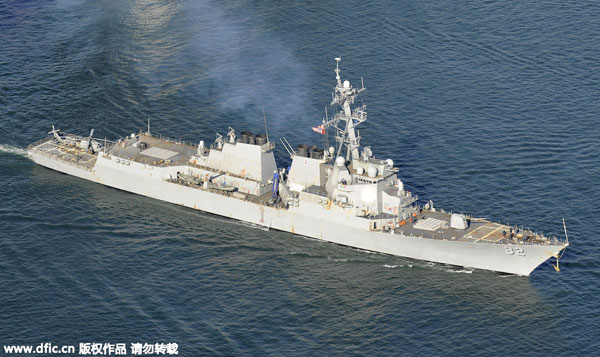 This file photo taken in February 2012 shows the US guided-missile destroyer Lassen.[Photo/IC]
Guided-missile destroyer illegally enters waters close to China's Nansha Islands
China said on Tuesday that two of its navy warships sent out warnings after the United States sent a guided-missile destroyer to patrol within 12 nautical miles (22.2 kilometers) of a Chinese island in the South China Sea.
It said the warnings had been sent "in accordance with laws".
Ministry of National Defense spokesman Yang Yujun said in a statement issued on Tuesday night that Beijing "will take all necessary measures to safeguard its own security", and has lodged solemn protests to the US.
The missile destroyer Lanzhou and cruiser Taizhou of the Chinese People's Liberation Army Navy sent the warnings to the US ship, Yang said.
On Tuesday morning, Foreign Minister Wang Yi warned Washington "not to act in an imprudent way and not to make trouble out of nothing".
In the evening, Vice-Foreign Minister Zhang Yesui summoned Max Baucus, the US ambassador to China, and said Beijing strongly urged Washington to "cherish the hard-won virtuous momentum of the China-US relationship and stop taking any action that threatens China's sovereignty and security interests".
Foreign Ministry spokesman Lu Kang confirmed in a statement in the afternoon that the USS Lassen illegally entered waters within 12 nautical miles of Zhubi Reef, which is part of China's Nansha Islands, "without receiving permission from the Chinese government".
Zhang Junshe, a senior researcher at the PLA Naval Military Studies Research Institute, said the warnings were based on international law and were made "within the scope of regular practices and were very professional".
The US action-quite near to Chinese territory-threatens not only the country's sovereignty "but also the security of facilities and Chinese personnel stationed on the island", Zhang said.
CNN reported that the patrol had been approved by US President Barack Obama, while a US defense official told Reuters that additional patrols would follow in coming weeks.
Lu said China monitored, followed and warned the Lassen. The country "will staunchly defend its territorial sovereignty" and "resolutely respond to any country's deliberately provocative actions", he said.
The incident came after Washington challenged Beijing over its dredging projects on some Chinese islands.
Lu said construction activities undertaken by China on its own territory are an internal matter and will not block other countries' legal freedom of navigation and overflight.
"China resolutely opposes any country using freedom of navigation and overflight as a pretext for harming China's national sovereignty and security interests," Lu said.
He expressed "strong discontentment" and "resolute opposition" over the US patrol and called on Washington to "immediately correct its wrongdoing" and abide by its promise not to take sides on the South China Sea issue.
Xinhua News Agency said the US action was a "blatant provocation to China's territorial sovereignty and ... a show of force under the excuse of testing freedom of navigation".
The US patrol comes just weeks before Asia-Pacific summits that are expected to be attended by President Xi Jinping and Obama.
Xi made it clear in late September after a meeting with Obama in Washington that China had no intention of militarizing the islands in the South China Sea.
Zhang Yunling, director of the Academic Division of International Studies at the Chinese Academy of Social Sciences, said the US is flexing its muscles to show its people, the region and the world that it will not fall behind as China grows stronger.
"When we established the East China Sea Air Defense Identification Zone in 2013, the US sent jets here, and now we have projects on our own islands in the South China Sea, the US has sent warships. I believe such incidents will occur frequently in the future."
Yin Zhuo, head of the Information Technology Commission of the PLA Navy, said there is no foundation in international law to support the intrusion by the Lassen.
Wang Xu contributed to this story.
Contact the writers through lixiaokun@chinadaily.com.cn