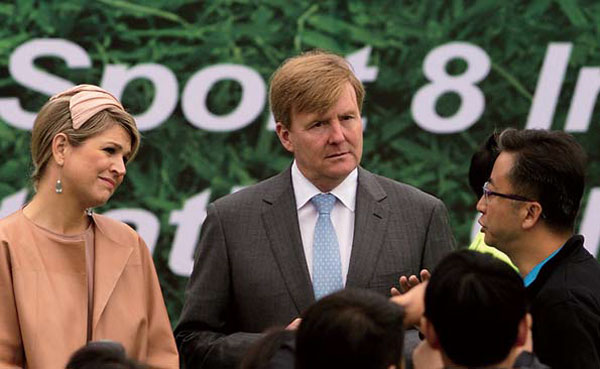 King Willem-Alexander of the Netherlands (center), begins his visit to China on Sunday. Wei Xiaohao / China Daily
Though a relatively small country in terms of size and population, the Netherlands is a country of great accomplishments. Meanwhile, China has become a leading industrial nation, with an increasingly important role in world affairs. It is developing fast, as are its ties with the Netherlands. And as the Chinese economy continues to grow and open up, both countries have become increasingly intertwined.
The visit of President Xi Jinping to the Netherlands in March 2014 was a meaningful sign of the close ties between our two nations, in particular since this was the president's first visit to a European country. The visit was warm and inspiring and, later this month, our king and queen will return the visit with a state visit to China. Our royal family will be accompanied by 130 Dutch enterprises, which offers great opportunities to further develope our economic relations.
The relations between our two countries go back about four centuries. Already at that time, trade was the main driver to bring our countries and people closer. Since the start of the economic reform program introduced by Deng Xiaoping about 30 years ago, the total trade volume between China and the Netherlands increased from almost nothing to around 44 billion euros ($50 billion) in 2014. Currently, the Netherlands is the third-largest trading partner for China within the European Union and China is the third-largest export market for the Netherlands outside the EU. The most important Dutch export products to China are food, live animals, raw materials, mineral fuels, chemicals, machines and transport materials.
In its international economic relations, the Netherlands has a strong position in several fields. These are in particular the sectors of horticulture, agriculture and food, logistics, water management, the chemical industry, creative industries, energy, high-tech industries and life sciences. China also aspires to further develop these areas, as laid down in the 12th Five-Year Plan (2011-15). Hence, our two countries enjoy close governmental and economic ties in each of these areas and there is ample room to further deepen this cooperation.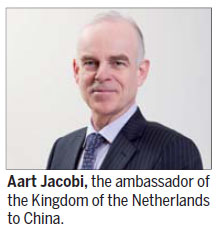 An excellent example of this is the water sector. Water is what defines the Netherlands, and cooperation in the field of water management with China dates back to the early 19th century. Water and water management are of crucial importance to both countries. Floods, droughts and the influence of climate change on our rivers and water sources are subjects of discussion and exchanges of knowledge between the Netherlands and China.
As a consequence of the close ties and China's impressive economic performance, a large number of Dutch companies have decided to establish themselves in China. Well-known Dutch multinationals like Philips, ING bank, DSM, KLM and Heineken have successful operations in China, most of them already for many decades. In addition, an increasing number of Dutch innovative small and medium-sized enterprises have also entered the Chinese market. The Netherlands embassy estimates that there are currently over 1,400 establishments of Dutch companies in China, ranking the Netherlands as the third-greatest EU investor. An extensive Dutch government network of the embassy, four consulates-general and six Netherlands Business Support Offices strengthen the business development of these companies.
A major part of Chinese exports to Europe is shipped through Dutch harbors and airports, which makes the Netherlands the main gateway to Europe for China. Its modern and efficient infrastructure, led by the Port of Rotterdam and Amsterdam's Schiphol Airport, brings an enormous volume of Chinese products to Europe's markets.
Relations between the No 1 harbor in Asia, the Port of Shanghai, and the No 1 harbor in Europe, the Port of Rotterdam, are intensive. Our two ports are crucial for the exports and imports between China and Europe. Intensive cooperation in developing more efficient and sustainable techniques in harbor management or customs operations will further strengthen the deep economic ties between our two countries.
Numerous flights by both Chinese and Dutch airliners connect Amsterdam with several Chinese destinations. With flights to Beijing, Shanghai, Guangzhou, Hong Kong, Hangzhou, Chengdu and Xiamen, our national flag carrier KLM has flights to more destinations in China than any other EU carrier.
The Netherlands warmly welcomes Chinese investments. With its internationally oriented business climate and excellent network of bilateral tax treaties, the Netherlands offers great opportunities for any Chinese company that is looking to set up European headquarters, treasury department, logistics center or the like. More than 500 Chinese companies have already settled down in the Netherlands, including such large enterprises as Huawei, Cosco, BYD, ZTE, ICBC and Bank of China, but also many smaller companies.
Education, science and innovation are important building blocks for an even stronger Dutch-Sino partnership. Our two countries' brilliant minds meet each other regularly to exchange ideas and to work together on exciting innovative projects. Further cooperation in joint research will continue. By extensive student exchange projects, our youngsters are building new bridges that contribute to a better mutual understanding and development of our nations. According to the Netherlands Education Support Office in Beijing, more than 6,400 Chinese students are currently studying in the Netherlands. Over 59 Dutch institutions offer more than 2,200 English-taught study programs and courses (bachelor's, master's, etc), and, with this number, the Netherlands is leading in continental Europe.
Cultural exchanges have not lagged behind. Not only are many Chinese tourists to the Netherlands enjoying the works of famous Dutch painters like Vincent van Gogh or Rembrandt, a great number of current Dutch artists, dance groups and musicians also regularly visit China. For example, the huge yellow rubber duck of Dutch artist Florentijn Hofman attracted large and enthusiastic audiences when visiting Beijing, Hong Kong and other Chinese cities. Among the Dutch public, there is also a growing interest in Chinese culture and language, such as Dutch high schools offering Chinese language classes.
I strongly believe that we have much to offer each other and that economic relations and mutual cooperation between China and the Netherlands will continue to grow to the benefit of our peoples. This state visit offers an opportunity not only to support current relations, but also certainly to look forward with ambition. With so many areas of intensive exchange, the sky is the limit. We can be confident that the ties between the Dutch and Chinese governments and entrepreneurs will become stronger and stronger.
The author is the ambassador of the Kingdom of the Netherlands to China.