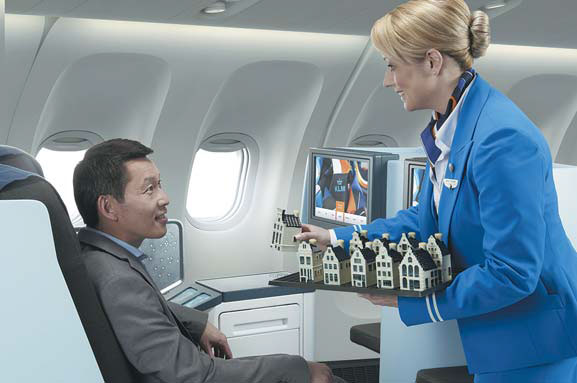 A KLM Royal Dutch Airlines stewardess serves a passenger. Provided to China Daily
KLM Royal Dutch Airlines is the oldest airline still operating under its original name, which it first adopted in 1919.
Along with its merger partner Air France, KLM is at the forefront of the European airline industry, using its tightly knit, extensive worldwide network to provide innovative and efficient products and services.
Passengers can enjoy easy and convenient transfers at the company's two powerful hub airports - Amsterdam Schiphol and Paris Charles de Gaulle.
KLM offers 139 direct connections around the globe, linking the Netherlands to every important economic region in the world.
In summer 2015, KLM operated 43 nonstop flights each week from seven cities in China, namely Beijing, Shanghai, Hong Kong, Taipei, Chengdu, Hangzhou and Xiamen.
KLM has always invested in customer comfort. Its new World Business Class cabin aims to give passengers the warm feeling of being at home.
Created by top Dutch designers, the new cabin features a fully-flat seat that can be transformed into a 2.07-meter-long bed, with a 17-inch screen for entertainment.
The new cabin interior has the fresh and recognizable KLM blue to ensure a sense of comfort.
The carpeting was manufactured partly using discarded KLM women's uniforms for sustainability.
The guiding principle of the new design is to ensure passengers feel at home while on board.
In 2014, with the fast development of social media in China, KLM was the first foreign airline to offer 24/7 customer service via Sina Weibo and WeChat.
On its WeChat account, customers can ask any travel questions in Chinese and get a response within the hour.
zhuanti@chinadaily.com.cn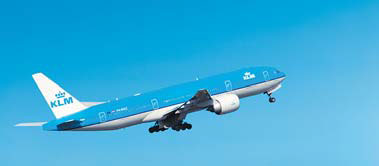 KLM operated 43 direct flights each week from seven Chinese cities in the summer of 2015. Provided to China Daily
(China Daily 10/27/2015 page6)