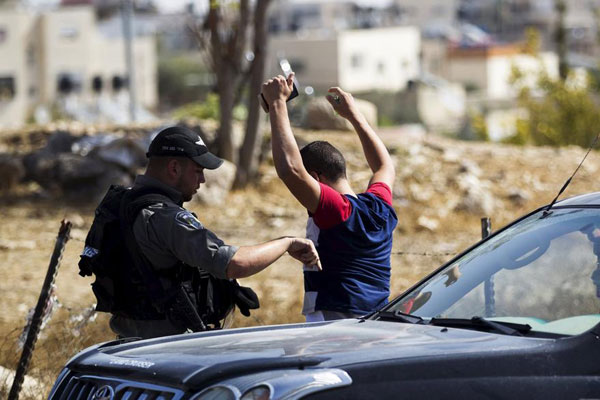 An Israeli policeman perform a security check on a Palestinian man at a checkpoint in Jabel Mukaber, in an area of the West Bank that Israel captured in a 1967 war and annexed to the city of Jerusalem October 14, 2015. [Photo/Agencies]
JERUSALEM -- Israel began Wednesday morning to seal off Palestinian neighborhoods in East Jerusalem and deploy soldiers on main roads in response to a surging wave of attacks, officials said.
The move followed a decision by Prime Minister Benjamin Netanyahu's security cabinet to take "aggressive" measures to quell a month-long unrest that has spread from East Jerusalem to the West Bank, Gaza, and Israel.
At a meeting that lasted until the early hours of Wednesday morning, the cabinet also decided to revoke the permanent residency rights of Palestinian attackers.
In the morning hours, Israeli forces were setting checkpoints and roadblocks in neighborhoods of East Jerusalem, an area that Israel annexed during the 1967 Mideast War and later claimed it as part of its capital. The move has never been recognized by the international community.
While Israel frequently imposes closures on the West Bank, this measure has never been implemented in East Jerusalem before.
A military spokeswoman told Xinhua that the army had began to deploy six companies to reinforce the police in the city, a day after three Israelis were killed and 15 others injured in four attacks in Jerusalem and the central city of Ra'anana, northeast of Tel Aviv.
The troops will be joined by 1,400 reservists Border Police officers.
In addition to the demolition of attackers' homes, a controversial punitive measure recently revived by the government is to ban families to rebuild their home after it's demolished.
The Israeli cabinet also approved not to return the bodies of attackers, while considering burying the bodies in military cemeteries in Israel so families could not visit them. Such a move may violate Islamic law, which includes a series of burial rituals.
Israel also decided to ease the regulations on issuing permits to carry weapons, as armed civilians can help police to thwart the spate of knife attacks.
The new measures have triggered criticism among left-wing lawmakers and human rights groups.
"The recent spate of attacks on Israeli civilians would present a challenge for any police force," said Sari Bashi, director of Israel/Palestine Office of Human Rights Watch. "But exacerbating the punitive policy of home demolitions is an unlawful and ill-considered response," she added.
"Locking down East Jerusalem neighborhoods will infringe upon the freedom of movement of all Palestinian residents rather than being a narrowly tailored response to a specific concern. The checkpoints are a recipe for harassment and abuse," she said.
Seven Israelis and at least 30 Palestinians have lost their lives during two weeks of violent clashes in the West Bank, East Jerusalem and Gaza Strip. More than 1,400 Palestinians suffered injuries.