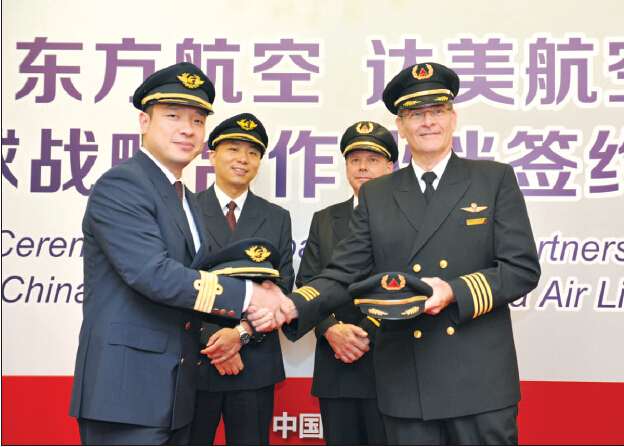 China Eastern Airlines Corp Ltd reaches agreement with Delta Air Lines to expand their cooperation. PROVIDED TO CHINA DAILY
China Eastern Airlines Corp Ltd on September 1 expanded their cooperation with American company Delta Air Lines by inking strategic share purchasing and business agreements.
According to the agreements, the two carriers will work on developing long-term business plans with regard to matters such as code sharing, cabin management, schedule coordination, sales collaboration and sharing of airport facilities.
"China Eastern and Delta Air used to be friends, but now we are family," said Liu Shaoyong, chairman of China Eastern. "China Eastern has longed for a foreign investor over the years, and our attitude is always open."
This new development comes after the announcement on July 27 that Delta had signed an agreement to acquire 10 percent of China Eastern Airlines' H shares, or an overall 3.55 percent stake, for $450 million.
The strategic partnership also marks a breakthrough for the Shanghai-based carrier, which has for years been trying to establish a strategic partnership with an international counterpart.
In 2008, China Eastern offered to sell a 24 percent stake to Singapore Airlines and Temasek Holdings but the plan failed to materialize. Earlier this year on August 21, Qantas and China Eastern got the green light from the Australian Competition and Consumer Commission (ACCC) to work together. The ACCC's decision will see Qantas and China Eastern increase their capacity on routes between Australia and Shanghai by 21 percent over the next five years.
Analysts said that the cooperation between China Eastern and Delta will bring the two parties broader market potential for the fast growing Sino-US tourism market. China's international routes have seen a 20 to 30 percent increase in passenger numbers since 2013, and this growth, along with factors such as the new 10-year visa policy for Chinese people visiting the US and the Asian country's rising economic significance, have caught the attention of major airlines.
"Although there is no way to immediately measure the cooperation, it is obvious that the two carriers will be able to strengthen their network between China and the US with each other's home market destinations," said Yu Nan, an industrial analyst at Haitong Securities.
Headquartered in Shanghai, China Eastern owns a fleet comprising 550 aircrafts and it serves 90 million passengers every year. It operates more than 35 flights to the US from Shanghai on a weekly basis. Delta owns more than 700 aircrafts, serves more than 170 million passengers per year and has 28 flights to Shanghai every week.