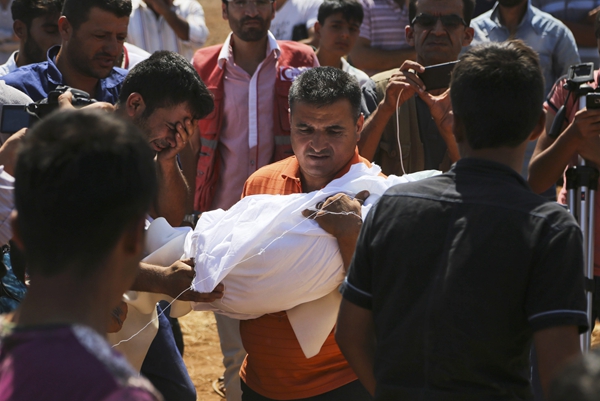 Relatives mourn over the body of one of the two Syrian toddlers who drowned with their mother, during a burial ceremony in the northern border town of Kobani, Syria, September 4, 2015.[Photo/Agenices]
In the Syrian town of Kobani, 3-year-old Aylan Kurdi was laid to rest alongside his mother and 5-year-old brother at the "Martyr's Cemetery" in the predominantly Kurdish community near the Turkish border.
Images of Aylan's tiny body washed up on a beach near the Turkish resort of Bodrum gave a human face to the casualties and prompted a global outpouring of sympathy this week. He drowned with his brother Galip, his mother and at least nine others while trying to cross in two small boats to the Greek island of Kos just a few kilometres away.
While pressure is rising on European governments to tackle the crisis more effectively, the boys' weeping father, Abdullah Kurdi, called on countries closer to home to act.
"I want Arab governments - not European countries - to see (what happened to) my children, and because of them to help people," he said in footage posted online by a local radio station.
The head of the United Nations' refugee agency, Antonio Guterres, called on Friday for the European Union to mobilise its "full force" to help the migrants.
The crisis has divided the 28-member EU, with countries that have accepted large numbers of migrants, led by Germany, which is planning for 800,000 asylum seekers this year, accusing those who have accepted few of shirking their moral duty.
Countries that have kept their doors more tightly shut say too big a welcome would make the problem worse by encouraging more people to make the journey. But this week's scenes, especially the photos of Aylan on the beach, may prompt relative hardliners like Britain's David Cameron to give way.
Senior EU officials said European Commission President Jean-Claude Juncker, who failed earlier this year to persuade the bloc's leaders to agree to a system to share 40,000 Syrian refugees, would try next week to convince them to take 160,000.
US presidential candidate Hillary Clinton called for a global response: "The entire world has to come together. It should not be just one or two countries, or not just Europe and the United States," Clinton told MSNBC.