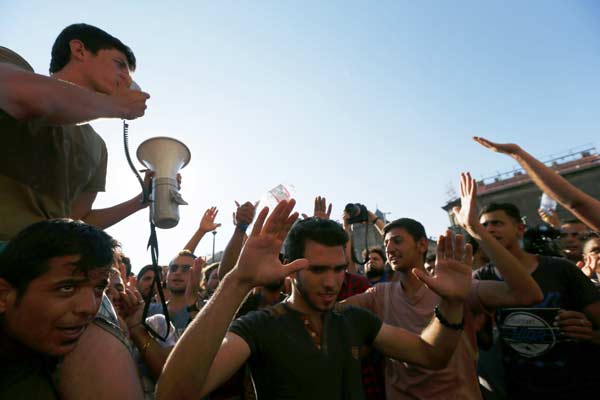 Migrants demonstrate outside the main Eastern Railway station in Budapest, Hungary, September 1, 2015. [Photo/Agencies]
BUDAPEST/BERLIN - Hundreds of angry migrants demonstrated outside Budapest's Eastern Railway Terminus on Tuesday demanding they be allowed to travel on to Germany, as the biggest ever influx of migrants into the European Union left its asylum policies in tatters.
Around 1,000 people waved tickets, clapping, booing and shouting "Germany! Germany!" outside the station. Later they sat down, staring at a police blockade erected at the entrance.
"Please, we are human too," said a sign in German held up by a young boy in a smaller group which protested into the evening.
A refugee crisis rivalling the Balkan wars of the 1990s as Europe's worst since World War Two has polarised and confounded the European Union, which has no mechanism to cope with the arrival of hundreds of thousands of poor and desperate people.
Germany is likely to accept by far the largest share. In the case of those fleeing the Syrian civil war it has effectively suspended an EU rule that asylum seekers must apply in the first EU country they reach.
But with trainloads of migrants rolling into Munich and Rosenheim from Austria and Hungary, it insisted on Tuesday that the rule was nevertheless still in force and urged other EU countries to abide by it.
The vast majority of refugees fleeing violence and other migrants escaping poverty arrive on Europe's southern and eastern edges but are determined to press on and seek asylum in richer countries further north and west. That means illegally crossing a bloc with no internal border controls to stop them.
Hungary has emerged as one of the main flashpoints of the crisis as the primary gateway for migrants travelling over land through the Balkans and into the EU.