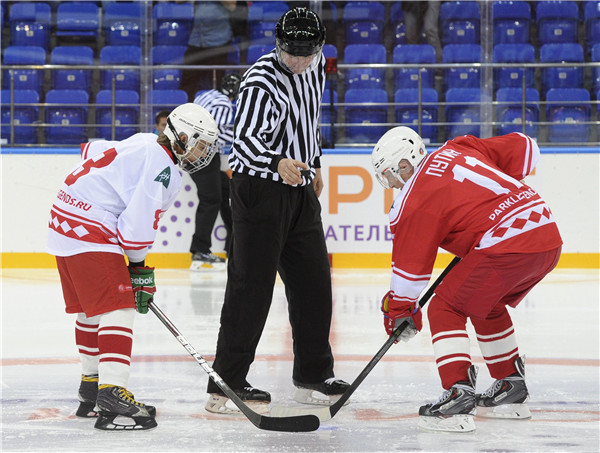 Russian President Vladimir Putin (R) takes part in a match between former Russian ice hockey stars and students of the Sirius educational centre for gifted children in Sochi, Russia, Sept 1, 2015. [Photo/Agencies]
MOSCOW - Russian President Vladimir Putin may be nearing his 63rd birthday, but he can still beat a team of kids in hockey. With the help of some of Russia's most formidable hockey veterans, that is.
Putin marked the opening of the school year on Tuesday by taking part in a game against student players from the Sirius academy for gifted children at the Shaiba arena in Sochi, one of the hockey venues at the 2014 Olympics.
Other players on his side included Pavel Bure, Vyacheslav Fetisov, Alexander Ovechkin and Yevgeny Malkin.
The veteran team won 9-5, Russian news reports said, but didn't specify whether Putin notched any goals or assists.