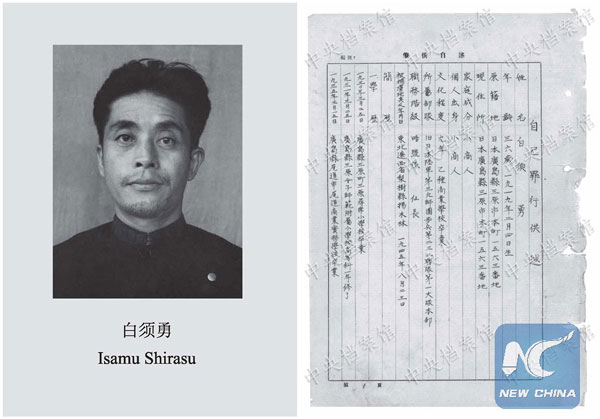 Photo released on Aug 23, 2015 by the State Archives Administration of China on its website shows a picture of Japanese war criminal Isamu Shirasu and an excerpt from his confession. [Photo/Xinhua]
BEIJING - A written confession from a Japanese soldier from World War II, released Sunday, revealed the purge of a village in central China's Hubei province.
The State Archives Administration (SAA) published the hand-written confession from Isamu Shirasu, who was born in 1919, joined the Japanese army in 1940 and was captured in China in August 1945.
In the document, Shirasu wrote that he and other soldiers from an army battalion were ordered to kill all residents of Baiyangsi village in Yuan'an county, Central China's Hubei province, in Dec 25, 1943.
About 100 villagers, including children, women and the elderly, were slaughtered and more than 70 of their houses were burned down, he wrote.
Shirasu also confessed to raping a number of Chinese and Korean women and torturing civilians.
One of the most brutal cases occurred in April 1945 in Xiangyang county of Hubei. He wrote that he "raped a 12-year-old girl with the threat of bayonet, and resulted in the rupture of her vulva".
According to the confession, in May 1944, Shirasu and two other Japanese soldiers tied a Chinese civilian and submerged him in a pool upside down for about 2 minutes three times during an interrogation, killing him.
Shirasu's confession was the 13th of a series of 31 written statements by Japanese war criminals published on the SAA website in commemoration of the 70th anniversary of the end of WWII.