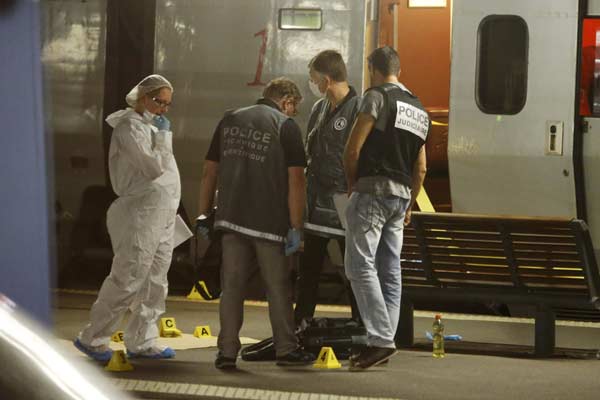 French investigating police check for clues on the train platform in Arras, France, August 21, 2015. [Photo/Agencies]
Investigators from France's special anti-terror police are leading the investigation, a spokeswoman for the Paris prosecutor's office said.
"As always where an act that could be terrorist in nature is involved, the greatest care and the greatest precision will be used," Cazeneuve said.
Cazeneuve said the two Americans "were particularly courageous and showed great bravery in very difficult circumstances," and that "without their sangfroid we could have been confronted with a terrible drama."
A third person, French actor Jean-Hugues Anglade, suffered a minor injury while activating the train's emergency alarm, Lorthiois said.
Passenger Christina Cathleen Coons of New York described the drama in car 12 of the train in an interview with Ouest France newspaper.
"I heard shots, most likely two, and a guy collapsed," she is quoted as saying.
Coons, identified as a 28-year-old vacationing in Europe, said a window broke above one woman's head. "A guy fell to the floor and had blood everywhere," she is quoted as saying.
She described lying on the floor herself and taking photos with her phone.
"I thought there would be a shootout in the train," the newspaper quotes her as saying. Then, "people came to take care of him."
The attack took place at 1545 GMT while the Thalys train was passing through Belgium, according to a statement from the office of French President Francois Hollande.
Hollande said he had spoken with Belgian Prime Minister Charles Michel, and the two leaders pledged to cooperate closely on the investigation.
A young woman said on i-Tele that she was in the carriage next to the one that the gunman struck.