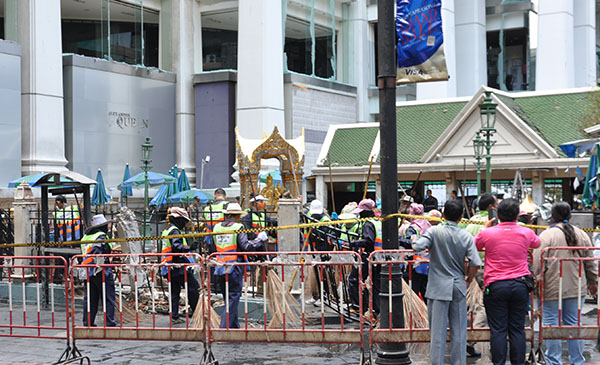 Workers clean up the blast scene around the Erawan shrine in the Thai capital Bangkok, Aug 18, 2015. [Photo by Zhao Yanrong/chinadaily.com.cn]
Six Chinese nationals, including four from the mainland and two from the Hong Kong Special Administrative Region, had been confirmed dead in a Bangkok explosion Monday night, the Chinese Embassy in Thailand said Tuesday.
Another 22 Chinese, including 17 from Chinese mainland, two from Hong Kong and three from China's Taiwan were under treatment in hospital, the embassy said, adding more than 10 others, who sustained minor injuries, have been discharged from hospitals.
There is one Chinese who remains missing, according to the embassy.
China on Tuesday urged Thai authorities to fully investigate the blast and to severely punish the perpetrators, Chinese Foreign Ministry spokeswoman Hua Chunying said in a statement posted on its website.
The two Hong Kong people who died were women aged 19 and 24. Hong Kong Immigration department also confirmed six other Hong Kong residents injured in the incident and they have been sent to local hospitals for treatment.
Three Hong Kong immigration officers will fly to Bangkok this morning to provide help to the victims and their family members.
The Immigration Department advised residents already there to attend to personal safety and remain at safe areas.
Thai Prime Minister Prayut Chan-o-cha vowed on Tuesday to bring perpetrators of the deadly blast to justice.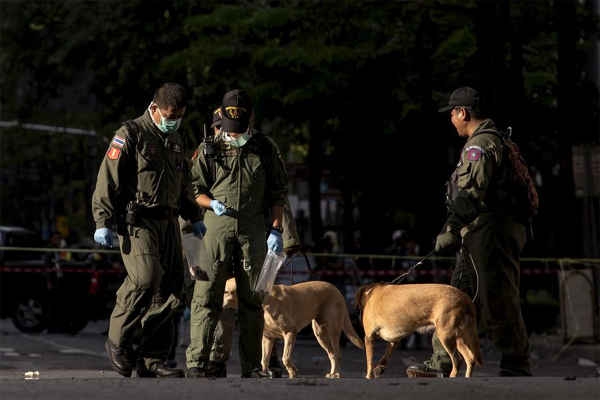 Experts investigate near the site of a deadly blast in central Bangkok, Thailand, August 18, 2015. [Photo/Agencies]
22 killed, more than 120 injured
Thai police said earlier that at least 22 people, including four Chinese nationals, were killed in the blast, said the Chinese embassy in Thailand on Tuesday.
Over 120 people, including more than 20 Chinese, were injured in the blast, according to the embassy.
The explosives were planted and aimed at taking lives, national police chief Somyot Pumpunmuang said.
The injured, including Thais, Chinese nationals and Filipinos, were taken to nearby hospitals, according to the police.
The Chinese embassy in Thailand was trying to confirm the exact number of Chinese citizens killed or injured, while the consulate general was leading a contingency team that went to hospitals to make sure injured Chinese were properly treated.
The embassy sent translators to the hospitals to help with communication.
There was no immediate claim of responsibility for the blast, which occurred just outside the Erawan shrine at a major intersection.