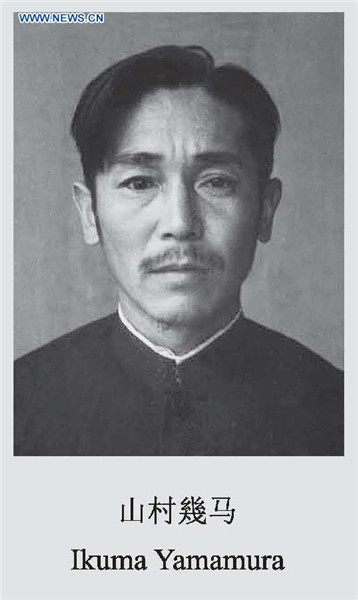 Photo released on Aug 17, 2015 by the State Archives Administration of China on its website shows a picture of Japanese war criminal Ikuma Yamamura. [Photo/Xinhua]
BEIJING - A Japanese war criminal confessed that he raped dozens of Chinese women during Japan's war of aggression in China, according to archives released Monday.
The State Archives Administration (SAA) published the seventh of a series of 31 handwritten confessions from Japanese war criminals online. Ikuma Yamamura, born in Yamaguchi Prefecture, Japan in 1919 confessed how he raped Chinese women and killed Chinese civilians from 1940 to 1945.
He raped at least 21 women aged between 13 and 50 while invading Hubei and Hunan province and Guangxi Zhuang autonomous region. He also raped another 27 women 43 times in so-called "comfort stations," according to a confession he made in 1954.
He recounted that in August 1944, he saw four Chinese women taking refuge in a tea grove in Leiyang County, Hunan Province. He chased one of them towards the valley and she fell from a 30-meter cliff and died. He caught another woman aged around 23, threatened her with handgun and raped her, according to his confession.
He took part in killing four Chinese peasants in Jingmen County, Hubei Province in June 1940 and shot dead another four peasants with a rifle in Hengyang County, Hunan Province in late August 1944, according to the confession.
A total of 31 confessions, one each day, from Japanese war criminals are being published online in the run up to commemorations of the end of the war on Sept. 3.
The handwritten confessions, translations and abstracts in both Chinese and English, are published on the website of the SAA.
The confessions detail crimes perpetrated by the Japanese, including killing, enslavement and poisoning of Chinese people, as well as the use of biological and chemical weapons on live human subjects.