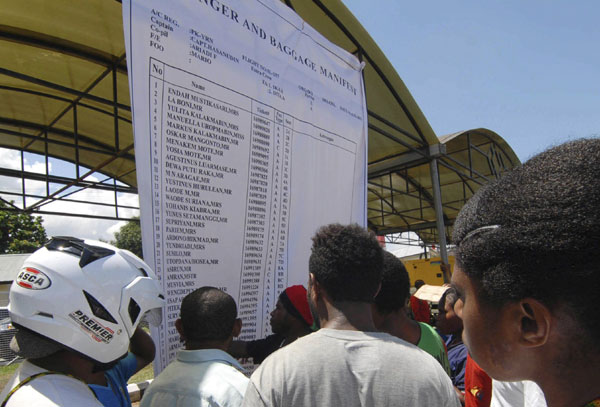 People look at a passenger and baggage manifest of the crashed Trigana Air Service flight at the airport in Sentani, near Jayapura, Papua province, Indonesia, August 17, 2015, in this photo taken by Antara Foto. [Photo/Agencies]
JAKARTA - Indonesia has been continuing the search for the crashed ATR42-300 plane operated by the Trigana Air Service in the mountainous area of the nation's easternmost province of Papua, after debris of the aircraft was spotted by searchers on Monday morning.
Henry Bambang Soelistyo, head of the National Search and Rescue Agency (Basarnas), said on Monday that searcher planes operated by Trigana Air Service have spotted debris and smoke believed to be from the crashed plane on 8:50 am local time.
Soelistyo said the crash site was located in a hilly area, not far from the Oksibil city's airstrip.
"If the finding result is correct and confirmed, the search and evacuation base would be centered at the Jayapura air base," Soelistyo said in a statement released on Monday.
He said another base would also be set up at the Oksibil airstrip to support the search mission.
The ATR42-300 plane reportedly crashed after losing contact with air traffic control on Sunday enroute from Sentani airport in Jayapura for Oksibil.
A total of 54 people including 49 passengers and 5 crew members were onboard.
Reports said the plane hit the slope of Tangok mountain, part of Bintang mountain in the Papua province.