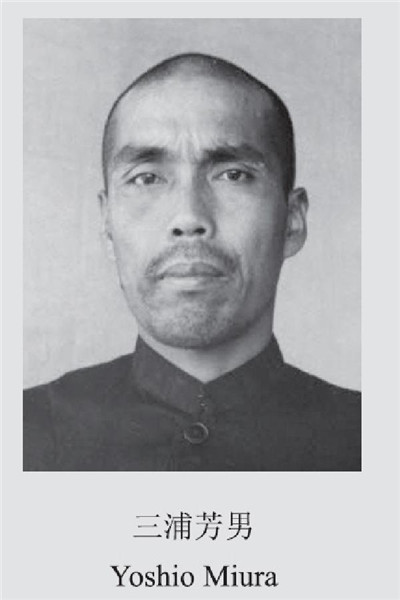 Photo released on Aug 13, 2015 by the State Archives Administration of China on its website shows the image of Japanese war criminal Yoshio Miura. [Photo/Xinhua]
BEIJING - A Japanese war criminal confessed to being part of a group that killed dozens of Chinese civilians and raped several women during Japan's war of aggression against China, according to the State Archives Administration on Thursday.
The third in a series of 31 handwritten confessions from Japanese war criminals published online, the confession features Yoshio Miura, who was born in Chiba Prefecture, Japan in 1920. He joined the Japanese War of Aggression against China in 1940.
Miura, "together with others, killed two peasants to seize concealed weapons" in Laiwu county of Shandong province in September 1941.
"In April 1942, I broke into a civilian house in a village of Xintai County of Shandong, threatened a Chinese woman aged 27 to 28 with a bayonet and raped her," he said in the confession.
Yoshio Miura said in late August 1942, for the purpose of seizing concealed weapons, they "interrogated 74 peasants using torture", 11 of which he personally interrogated and killed.
In July 1942, in Zhangqiu county, three of his companions "pushed a captured peasant into a 20-feet-deep dry well, and threw down a rock of around 50 kilograms to kill him" in Zhangqiu county.
"Near Xianggong Village of Zhangqiu county, we captured another peasant, covered his mouth with a towel, bloated his belly with about 20 liters of cold water, making it hard for him to breathe, and then fed him with dung, beat him on the belly, private parts, head and feet with a shoulder pole and killed him after an hour of interrogation and torture," he said.
In early October 1944, Yoshio Miura ordered his subordinates "to shoot dead 13 Chinese in Tai'an county, claiming that they colluded with the Eighth Route Army."
A total of 31 confessions from Japanese war criminals will be published online starting Tuesday to expose crimes committed by Japan in China during World War II.
The handwritten confessions, along with translations and abstracts in both Chinese and English, have been published on the website for the State Archives Administration.
"These archives are hard evidence of the heinous crimes committed by Japanese imperialists against the Chinese," a State Archives official said.
The confessions, which have never been released before, detail crimes perpetrated by the Japanese, including killing, enslavement and poisoning of Chinese people, as well as the use of biological and chemical weapons on live human subjects.