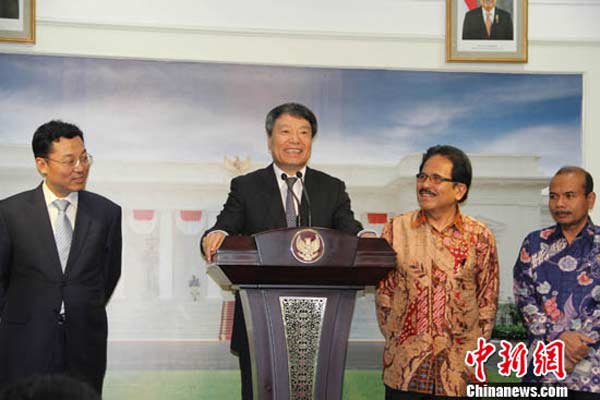 Xu Shaoshi (second left), head of China's National Development and Reform Commission, attends a press conference after meeting with Indonesian President Joko Widodo in Jakarta, Indonesia, Aug 10, 2015. [Photo/Chinanews.com] 
JAKARTA -- China offered a more competitive solution for Indonesia's first high-speed railway linking Jakarta and Bandung, diplomatic sources said Wednesday.
The offer was made by Xu Shaoshi, head of China's National Development and Reform Commission, who came as special envoy of Chinese President Xi Jinping.
During his three-day visit, which started last Sunday, Xu met with Indonesian President Joko Widodo.
According to a press release of the Chinese Embassy in Indonesia, Xu told the Indonesian president that China is willing to share experiences with Indonesia through high-speed railway construction to "promote high-speed railway development in Indonesia."
China's high-speed rail technology is very mature and the country has been successfully operating 17,000 kilometers of high- speed rails, accounting for 55 percent of the world's total. Railways with a speed of over 300 kilometers per hour in China take up 60 percent of those in the whole world. Nearly 1.7 billion passengers have been transported by high-speed rail around the globe last year, of which 0.9 billion have taken China's high-speed trains.
Xu said China has formed a complete system for high-speed rail design, construction, operation and equipment and it meets ISO requirements.
Indonesia announced last month it would hold an open bid for the Jakarta-Bandung high speed railway, which is expected to cut the travel time between the two cities from the current three hours to less than 40 minutes.
According to the sources, Xu has handed over a feasibility study report to the Indonesian side, which noted as there are only eight stations in the planned high-speed railway, the designed speed could reach up to 350 kilometers per hour.
A press release offered by Xu's delegation said that China would give a loan repayment condition of 40 years with a grace period of 10 years. The exact amount of the loan is yet to be revealed.
If China is to build the railway, construction could start in as early as September this year and finish at the end of 2018, and the railway could be put into operation in 2019.
China also pledged to enhance local procurement for the project which is expected to create approximately 40,000 job opportunities for Indonesia each year.
According to the feasibility study, China would establish a joint venture with Indonesia to operate the railway and share risks and interests, while providing technical transfer and personnel training for Indonesia.
Indonesian Economic Coordinating Minister Sofyan Djalil said Indonesia would study the Chinese proposal and appoint an independent consultant this week to help make a decision, according to the sources.