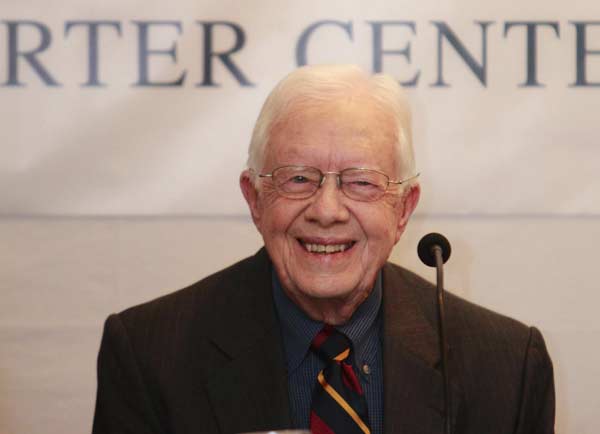 Former US President Jimmy Carter smiles as he talks to the media during a news conference in Kathmandu in this April 1, 2013 file photo. [Photo/Agencies]
ATLANTA - Former US President Jimmy Carter announced he has been diagnosed with cancer in a brief statement issued Wednesday.
The statement from the Carter Center makes clear that Carter's cancer is widely spread, but not where it originated, or even if that is known at this point. The liver is often a place where cancer spreads and less commonly is the primary source of it. It said further information will be provided when more facts are known, "possibly next week."
"Recent liver surgery revealed that I have cancer that now is in other parts of my body," Carter said in the statement. "I will be rearranging my schedule as necessary so I can undergo treatment by physicians at Emory Healthcare."
Carter, 90, announced on Aug. 3 that he had surgery to remove a small mass from his liver.
Carter was the nation's 39th president, defeating Gerald Ford in 1976 with a pledge to always be honest. A number of foreign policy conflicts doomed his bid for a second term, and Carter lost to Ronald Reagan in a landslide.
After leaving the White House, he founded the center in Atlanta in 1982 to promote health care, democracy and other issues globally, often with wife Rosalynn by his side, and won a Nobel Peace Prize in 2002.
He has remained active for the center in recent years, making public appearances at its headquarters in Atlanta and traveling overseas, including a May election observation visit to Guyana cut short when Carter developed a bad cold.