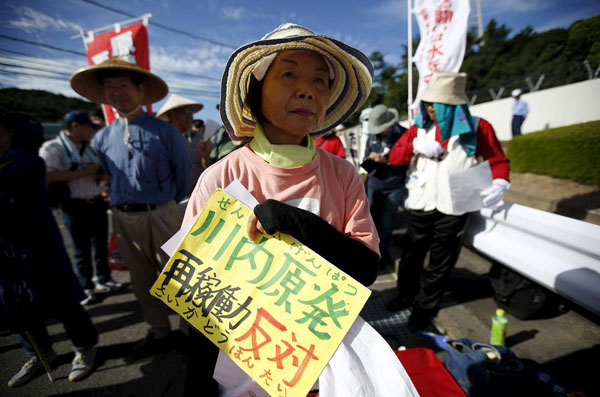 A protester attends a rally against the restarting of the plant in front of an entrance gate of Kyushu Electric Power's Sendai nuclear power station in Satsumasendai, Kagoshima prefecture, Japan, August 7, 2015. The placard reads "Against restart at Sendai nuclear power station". Japan is due to switch on a nuclear reactor for the first time in nearly two years as Prime Minister Shinzo Abe seeks to reassure a nervous public that tougher standards mean the sector is now safe after the Fukushima disaster in 2011. The head of Japan's atomic watchdog has said that the new safety regime meant a repeat of the Fukushima disaster would not happen, but protesters outside the Sendai plant are not convinced. [Photo/Agencies]
TOKYO - Japan restarted a nuclear reactor in the Sendai plant in Kagoshima Prefecture, Kyushu, at 10:30 am local time Tuesday, making it the first utility in the country to do so though anti-atomic sentiment remains strong following the 2011 Fukushima crisis.
The Fukushima accident resulted in the shutting down of all of Japan's commercial reactors by the end of September 2013 due to safety concerns. One year later, the Sendai plant obtained safety clearance from the Nuclear Regulation Authority, becoming the first nuclear facility to meet the new, stricter regulations.
According to the utility's operator Kyushu Electric Power Co., the No. 1 reactor in Sendai plant is expected to reach criticality around 11 p.m. Tuesday and begin generating electricity on Friday. It will enter commercial operation in early September and the resumption of Sendai's No. 2 unit will likely come in October.
The Japanese government has sought to reactivate nuclear reactors that have obtained safety clearance from the regulator, despite the majority of the public being opposed to it in media polls.
A recent poll conducted by Japan's Kyodo News showed that more than 60 percent respondents oppose nuclear plant restarts.
On Monday about 400 protesters rallied in front of the Sendai plant. One demonstrator told reporters: "I can never tolerate this. I cannot stand they are resuming the reactor when the Fukushima nuclear accident remains far from being solved."
On Tuesday morning, dozens of antinuclear protestors gathered in front of the prime minister's office, opposing the restart.
"The accident at the Fukushima plant is not over," said Honami Fujita, a 50-year-old housewife from Kanagawa Prefecture near Tokyo. "Who would take responsibility if an accident like Fukushima happens again?"
According to Kyodo News, two reactors at Kansai Electric Power Co.'s Takahama plant are seen as the next candidates for resumption after obtaining safety clearance from the Nuclear Regulation Authority in February.
However, a court in April banned the utility from restarting the units citing safety concerns, clouding the firm's plan to switch the reactors back on in November.