France and Britain vowed on Sunday that a cross-Channel migrant crisis was their "top priority" in a united front that belied simmering anger.
Heightened security has curbed the number of attempts by migrants in the port city of Calais trying to make it through the undersea Channel Tunnel to Britain, with only 400 bids on Saturday night, a police source said, compared to 2,000 earlier in the week.
About 3,000 people from Africa, the Middle East and Asia are camped in Calais hoping to smuggle themselves into Britain, and the costly crisis has strained ties across the Channel.
"Tackling this situation is the top priority for the UK and French governments," French Interior Minister Bernard Cazeneuve and his British counterpart, Theresa May, said in a statement published in France's Journal Du Dimanche and Britain's Sunday Telegraph newspapers.
"We are committed and determined to solve this, and to solve it together."
However, politicians were less conciliatory on the ground, with those in Britain accusing France of security failings, while London was accused of making it too easy for migrants to work illegally, thus luring them to its shores.
The mayor of Calais, Natacha Bouchar, accused the British of "imposing their laws on our border, and it is becoming unacceptable".
"The British government must agree to quickly reconsider its controls of the labor 'black market', because that is why the migrants go to the United Kingdom, and open a transit zone or refugee camp on their territory to filter the migrants themselves."
Her comments came after former employment minister Xavier Bertrand said that if Britain failed to improve the situation, "let's let the migrants leave and let Mr (David) Cameron handle his politics in his own way, but on his own island".
At least 10 migrants have died since June in the nightly attempts to find a way onto a train or a truck headed for Britain, seen as a better economic option by migrants, many of whom do not speak French.
The incursion attempts on Saturday night saw traffic blocked for five hours, a Channel Tunnel spokesman said, adding the measure was taken for the security of both clients and migrants.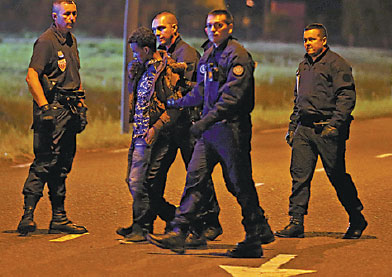 French riot police detain a migrant near a fence as he attempts to access the Channel Tunnel in Calais on Sunday. Pascal Rossignol / Reuters
(China Daily 08/04/2015 page12)