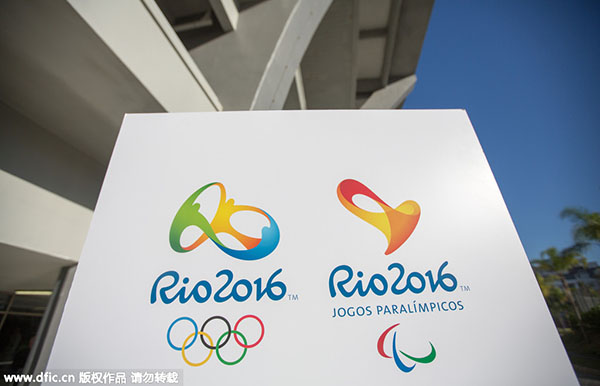 A sign featuring the logos for the 2016 Summer Olympics and the 2016 paralympics (R) is on display at Maracana stadium in Rio de Janeiro, Brazil, in this August 7, 2014 file photo. Rio will host the 2016 Summer Olympics and Para Olympics. [Photo/IC]
BRASILIA - Brazil sports minister George Hilton hopes the coming Rio Olympics could encourage more Brazilians to participate in sports as study finds half of the country's populations do not practice any physical exercise.
In a recent exclusive interview to Xinhua at the headquarters of the Sports Ministry, Hilton also took on some topics of the goal and preparations of the Olympics, and Brazilian football.
With just over a year to go until the Rio Olympics, a recent survey collected by the Brazilian Institute of Geography and Statistics shows that 45.9% of Brazilians do not practice sports.
"The results are shocking to me," said Hilton. "As a legacy, we are building lots of infrastructures to encourage the sports to flourish after the World Cup and Olympics."
The Brazilian federal government has been working so that the legacy from the world's biggest sport event reaches all states and the Federal District. Over four billion reais in investments have been providing for the building and consolidation of a National Training Network, with units that will benefit Brazilians in all regions and contribute to developing new generations of athletes.
According to Hilton, Brazil has brought new legislation, involving the federal, state and municipal governments, to provide funding from youth programs and school sports to the high performance levels.
"Besides public investment, we will also create rules and establish partnerships with the private sector to invest in sports. There is already a law to encourage the private sector to invest in sports projects," he said.
Hilton pointed out the school and university sports are vital to increase the sports population. Because according to the survey, the main periods which sports are abandoned happen during school or university, within the 16-24 years old group and most of those who have abandoned (69.8%) claim lack of time and other priorities (study, work or family).
"Most of all, the Olympics will leave a legacy for Brazilians. They will encourage Brazilians to participate in sports," Hilton said.