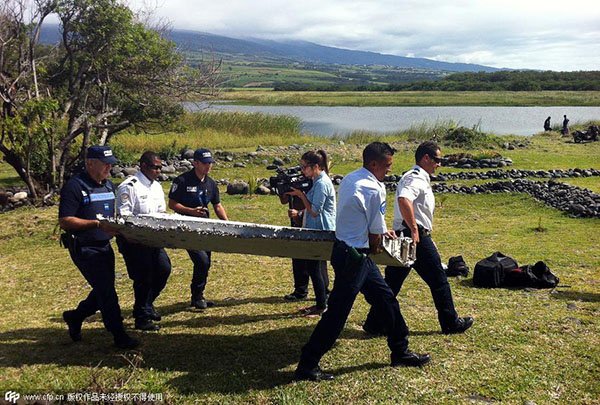 Police carry a piece of debris from an unidentified aircraft found in the east of the French Indian Ocean island of La Reunion, on July 29, 2015. The debris could be a part of the missing Malaysia Airlines flight MH370. [Photo/CFP]
KUALA LUMPUR, July 31 (Xinhua) -- The debris discovered on Reunion Island in the Indian Ocean is part of a Boeing 777, local media quoted Malaysian Deputy Transport Minister Abdul Aziz Kaprawi as saying on Friday.
Aziz said the flaperon washed ashore on a beach was part of a Boeing 777 aircraft, according to The Star, a Malaysian English language newspaper.
However, Aziz said it did not mean the debris was from the missing flight MH370.
"Yes, MAS (Malaysia Airlines) told me that the part number of that flaperon is a Boeing 777, but it doesn't mean that it belongs to MH370," said the official.
"It confirms that the flaperon belongs to a (Boeing) 777," he added.
The piece of plane debris has led investigators a step closer to solving the mystery of MH370, officials from Malaysia's transport ministry said.
Malaysian Transport Minister Liow Tiong Lai said Wednesday that Malaysia had sent a team to Reunion Island to determine whether the debris part comes from the missing MH370 flight.
All 239 passengers on board of the MH370 are presumed dead after it went missing not long after takeoff on March 8, 2014.
The physical search for the jet is halfway through, and covers more than 120,000 square km of sea bed.