Singapore celebrates the 50th anniversary of its independence this year. August 9, 2015 marks the 50th anniversary of its founding (SG50).
As a member of Nipsea Group, Nippon Paint Singapore is celebrating the nation's 50th anniversary through its CSR initiatives. In April, Nippon Paint Singapore joined hands with the National Environment Agency (NEA), National Heritage Board (NHB) and National Arts Council (NAC) to launch "Our Hawker Centres – A Heritage & Art Project", which aims to raise public awareness for the heritage and cultural value of Singapore's hawker centres and the areas they are located in. A hawker centre is the name given to open-air complexes, outdoor food malls in Singapore, housing many stalls that sell an array of inexpensive street food.
More than 70 schools, organizations and artists have participated in the initiative "Our Hawker Centres – A Heritage & Art Project" to create murals and art installations in more than 40 hawker centers.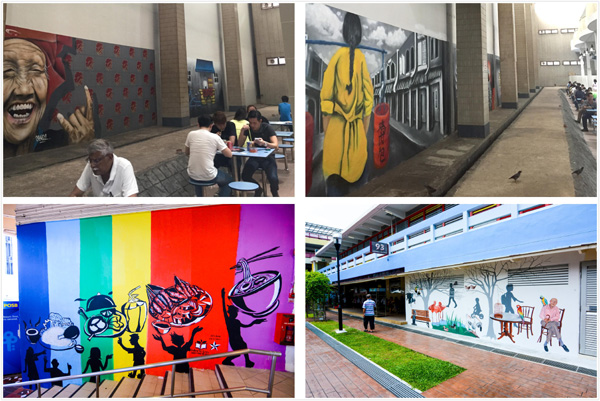 Nippon Paint supports "Our Hawker Centers – A Heritage & Art Project" to create murals and art installations in more than 40 hawker centers in Singapore.
As a leading company in Asia's paint industry, Nippon Paint Singapore has donated more than 1,000 liters of premium paint and painting tools worth more than SGD 40,000 to student painters. The water-based exterior paint and specific colors were picked by Nippon Paint's experts to ensure safety, durability and stability of the materials. To commemorate the anniversary, Nippon Paint Singapore has rolled out an exclusively designed SG50 paint can, featuring Singapore's modern metropolis landscape, with a view to encourage and bond together the students, organizations and artists participating in the hawker centres protection program. Nippon Paint Singapore hopes for this project to add a splash of vibrancy, color and creativity to these unique centres, aiming at enlivening the hawker food experience that is renowned both at home and abroad.
On June 20, up to 50 employees from Nippon Paint Singapore and Dow Chemical Pacific (Singapore) Pte Ltd., took part in "Paint with Love", a CSR program that helps paint the classrooms. They painted the classrooms of the Eden Children's Center and brought love and color for the autistic children in the centre.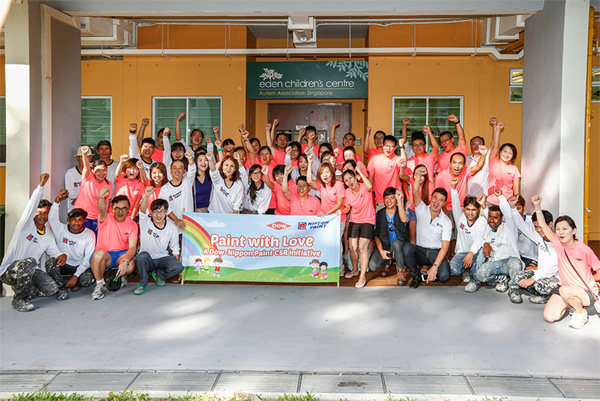 Nippon Paint employees after painting the classrooms at Eden Children's Center for autistic children.
In future, Nippon Paint Singapore will expand its CSR activities to reach out to a wider community. "Our employee-centred CSR activities offer Nipsea employees a platform to participate and do their part for the environment and the community. In the countries in which the Nipsea Group operates, we hope to fulfill our commitment to social responsibility, showing care for groups living under challenging conditions, and bringing colors and love to more people. We achieve this through a variety of green technology activities and innovative localized CSR events. As we expand our CSR activities to more countries and involve all our employees, we also strive to bring in our business partners and corporate friends so that our collective strength could create an 'Eco Color' Asia," said Group Chief Executive Officer of Nipsea Group, Wee Siew Kim.